Mi Ami / Islet @ Barden's Boudoir 03.06.10
Stoke Newington indie hangout Barden's Boudoir hosted a gig that upended this critic's expectations.
Jun 3rd, 2010 at Barden's Boudoir / By
Ben Wood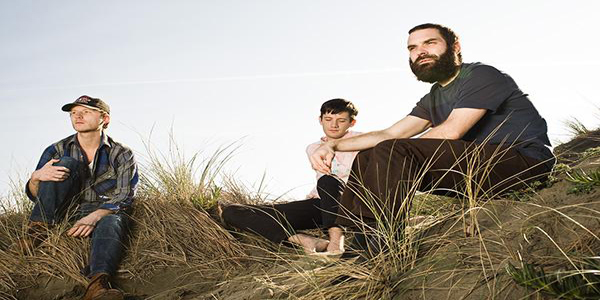 Despite sound problems, the opening act – Welsh mentalists Islet – whipped the crowd into frenzy with their joyously unpredictable art rock. Then Mi Ami dropped the tropical dub / ambient / mid-period Can leanings of much of their recorded works, to bring us technically adept but joyless punk-funk.
Cardiff four-piece Islet haven't got an image or an industry gameplan – they just wanna have fun and this impossible-to-categorise band certainly succeed. They create a dextrous, percussive noise with two drum-kits and frequent instrument-swapping. Everyone sings, or perhaps more accurately, vocalises – you are just as likely to hear screaming, whooping or gibbering, as boring old words. They frequently jump into the crowd and carry on playing, or tattoo a rhythm on the low ceiling.
But underneath this apparent chaos lie four very accomplished musicians. The noisier, more distorted elements are balanced by some super-funky drumming and – on one song in particular – some delightfully original yet melodic guitar. There aren't really many 'songs' as such, but it doesn't really matter.
The band's nominal frontman is forced to entertain the crowd for a good while when the bass set-up gives up the ghost. But we are charmed by his rambling banter and – thanks to a loan from Mi Ami - they eventually finish a slightly uneven but rabidly exciting set to acclaim… and exit chanting.
On record, Mi Ami are a pleasing prospect – creating multicoloured, springy grooves that sound like futuristic tribal music in space. African and Latin elements help create an accessible but prog-leaning package. Their MySpace page says they hail from 'insterstellar space, San Francisco', their T-shirts feature Bob Marley and their new album Steal Your Face nicks its title from the Grateful Dead. However…
Like many bands, Mi Ami may have felt they couldn't do the subtleties of their recorded output justice in a live setting – or maybe, as newie New Guitar suggests – they have taken an unfortunate new direction. Anyway, they give us a super-tight, muso take on punk-funk, with unintelligibly screamed male and female vocals. The singer keeps pausing to exhort us to party, but it's a bit too aggressive and one-dimensional for that.
The set builds into moments of Rush-like complexity, like a muso wet dream – impeccably played but empty of everything but attitude. It must be said, however, that it goes down a storm with most of the crowd, and moshing breaks out.
Mi Ami are best experienced on record – but let's hope we hear more from Islet. They release their debut mini-album, Celebrate This Place, jointly on Shape and Turnstile Records on June 14. If it's anything like the live shows, it could be a cracker.