Maybeshewill @ Clwb Ifor Bach, Cardiff 10.12.14
With myriad pedals lining the stage and synths and laptops docked in safe places, Maybeshewill had drawn a big crowd, and they and their two support acts were primed for a landscape night of serious instrumental manipulation.
Dec 10th, 2014 at Clwb Ifor Bach, Cardiff / By
Jack Sibley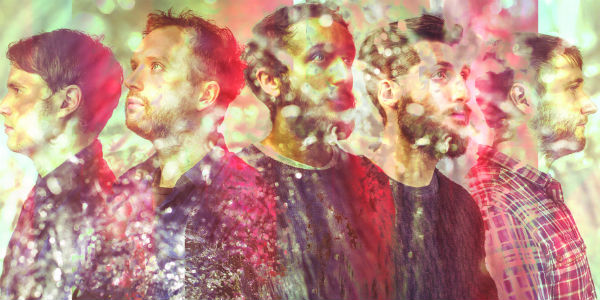 Samoans
is a band from Cardiff. Though they only played a short set, it's always a pleasure to see some local talent alongside a touring band. And they completely destroyed it. With heavy sections sitting comfortably alongside spacious atmospheres, the balance of vocal to instrumental sections is a strong point. Not over-used and not under-used, the lead vocalist spends just as much time contributing with his guitar as tying the music to tangible, specific lyrical concepts. High point was the band's monster, 'The Moth'. Scattering a distorted semi-quaver riff throughout a piece laced with tinges of doom/stoner rock, the song is a structured brainstorm of noise and pounding-heart serenity. The band left the stage, not to return until the release of their upcoming album which will be unleashed in the New Year.
Next up were Maybeshewill's long-term tour buddies,
Flood of Red
. Hailing from Scotland, the band are currently promoting their latest album
Throw
with shows achieving that most impressive of tasks – keeping a strong strain of humanity in music that could easily feel detached based on the technical skill and high production values it encompasses. This aspect was most consolidated by the fact that they were fronted by a lead singer unadorned by an instrument. At first sight, it might be surprising to see this in a band that could easily stand on its own instrumentally, but this character provides a soul connection to the audience. Clearly impassioned by the compositions, he spends the long breaks between vocal sections writhing or smiling knowingly at the crowd and has a large repertoire of audience-baiting tactics. The other key feature of the group was the drummer. With imaginative rhythms and nearly every fill being in a cross-rhythm or completely separate time signature, some might say he overplayed, but he opened up loads of colourful little nooks and crannies for exploration. As said before though, technical skill was high across the board and the show was consumed wide-eyed by the, by now gluttonous, audience.
If Samoans was a slip-road and Flood of Red was the motorway,
Maybeshewill
disregarded the central reservation. I don't want to spend much time discussing the issue of pre-programmed electronics as it is now just a given part of their performance and, despite heavy criticism, they have not dropped it; a decision we need to respect. This feature did affect the beginning of the set in that album opener '…' was an effective suspense-builder as the group took the stage. However, when it segued into 'In Amber' and the initial drum beat kicked in, it was extremely bizarre to see five musicians being cheered onstage whilst not moving a finger.
When they did come in though, a wave of euphoria blasted out over streams of white light. Their sound is empowered by taking a unified approach and how they get the bass guitar so penetrative is beyond me. In contrast to Flood of Red, the drummer selects his techniques to fit the rest of the group perfectly and, whilst not as boldly imaginative, it certainly reinforces the whole.
The light show needs crediting as well as, alongside the pre-programmed electronics and album-cover-canvas draped over the back of the stage, it shows how much work goes into the preparation of a Maybeshewill gig.
The rest of the show went on with a healthy combination of old material and excerpts from the latest album, wisely choosing tracks from the latter that highlight the record's key themes. It was an interesting feature that they tended to climax on old material, with a particular highlight being their last track 'Not for Want of Trying' from three albums back. Crowd response was similar for old and new material but it was in an unconfident tone that the singer asked if anyone had heard
Fair Youth
. This could certainly be taken as evidence that, whilst they may be past their initial wave of popular recognition, they have cultivated a strong and loyal following over their years together, a following that could be further taken advantage of.
For their encore, 'He Films the Clouds Part 2' (interestingly also a debut album track) was a winner. With its female vocal ripe for singing along to, it is one of many tracks that encapsulate the band so well, and a choice that made the crowd roar in a final stretch before slumping back, snoozy, overfed and happy.