Matmos @ XOYO, London 19.03.13
Electronic duo Matmos are about as smart, and as freaky, as an act can get. They create uncategorisable music from the strangest of sources and have a right old laugh while doing so. Along with well-worth-catching support act People Like Us, they gave a packed room of Hoxtonites music to tickle your funny bone, not stroke your beard to.
Mar 19th, 2013 at XOYO, London / By
Ben Wood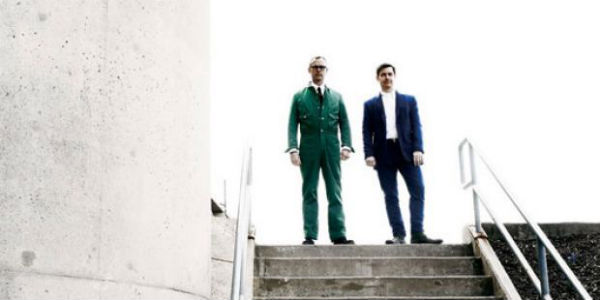 For the last 20 years, multimedia artist Vicki Bennett, aka
People Like Us
, has been mashing up trashy films and classic tunes into kitschy new combinations. Smiling to herself, she mixes them together live while a giant screen shows a melange of Bond movies, pulp 50s sci-films and disaster epics. This is soundtracked by mash-ups of, for instance, Van Halen's 'Jump' and wedding staple 'Disco Inferno' - or The Carpenters' 'Calling Occupants of Interplanetary Craft' and excerpts from the Beatles'
Abbey Road
. Great fun.
Matmos'
chalk-and-cheese appearance - one rocks a San Francisco leather boy look while the other is attired for a day at the office - is the perfect metaphor for their music. The unlikeliest of ingredients are mixed together to create something new, strange and - usually - very tasty indeed. The wider world may be familiar with them in their guise as Bjork collaborators, but as themselves they make music that keeps a sense of melody, while constantly shifting into new shapes.
The boys certainly make full use of the stage, joined as they are by a guitarist, stacks of equipment and an intriguing array of objects to sample. What are they going to do with a squeaky pig, a pack of balloons and a jug of water, we wondered? We were about to find out...
An admittedly baffling first few minutes prompted concerns that this was going to be inaccessible art-wank. But from the first time they got the balloons out, we knew we were in safe hands. Blown up and played, they sounded like high-pitched little demons... the wow factor had truly been ignited. From this moment on, we stepped willingly into Matmos' playfully off-kilter, melodically rich world.
While some of the sounds may have been off-beam - this is the band that has sampled surgical procedures and the "neural activity of crayfish" - the melodies and beats
around them kept things accessible. There is definitely a fondness to noodle going on here, and the occasional detour into 'tribal Yeasayer rainforest jam' mode made one suspect that if you took Matmos back 40 years, they would be hanging out with the likes of King Crimson.
One tune started off as a heavy metal dirge before segueing into segments reminiscent of Yes, The Orb, and God knows what else. The sound of water being blown into a jug and amplified sounded positively unearthly. And a 'Hawaiian Martin Denny' tune brought exotica into the 21st century, featuring a very enthusiastic audience on monkey and bird noises.
Keeping up a steady stream of banter with the crowd, this was clearly a group having a ball. Their serious muso chops and playful sense of humour proved a winning combination. God knows what you'd call this music, but its larky spirit certainly warmed up a chilly March evening.