Marnie Stern @ The Louisiana, Bristol 04.06.13
New Yorker Marnie Stern is one of those acts that so many have heard of, that so many would like to catch live. Stern is one of those guitarists that does something different. Loud, brash, finger-tapping all over the China shop like a bull in an even more expensive ceramics shop – a fan before the show even proclaimed her "the best guitarist he'd ever seen".
Jun 4th, 2013 at The Louisiana, Bristol / By
Andy Price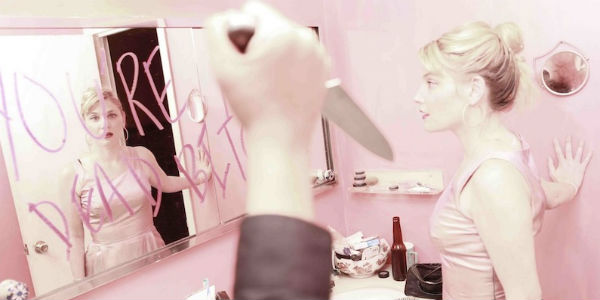 But that might be stretching it a bit far. Stern has huge technical ability and it's a spectacle for sure, but after releasing four records via
Kill Rock Stars
– her latest,
The Chronicles of Marnia
arriving back in March – none have made the solid hit. None have quite propelled her from the guitarist you want to see live to the guitarist you need to see live.
Or so thought this guy. The Bristol date on this tour was actually packed out – sold out and sweaty. It's times like this that you need to take a step back and assess the appeal.
Marnie Stern
is a frenetic, honest and engaging performer, from the moment you first hear one of her songs, to the first interview you read, and certainly to the first show you see her play. There's a level of curiosity that puts her outside the realm of vague interest. Her latest record has straddled the spectrum of positive to distinctly average reviews. An 8 out of 10 from
Pitchfork
here, a C+ from
A.V. Club
there.
This background fits surreptitiously against her personal endeavours – back in January in the run up to her record release she offered New York-area men the opportunity to date her. In a post on the
Kill Rock Stars
website she said that those "who like Law and Order SVU, dogs, and chicken wings should apply," but that "creeps/stalkers need not apply, as well as drug addicts."
This manic personality, unsurprisingly transfers to the live show. She powered through a number of tracks like 'Year of the Glad' – a lovingly orchestrated onslaught that allows the drums to be the star of the show for a rare few minutes and 'You Don't Turn it Down', another track from the new record that offers the closest thing to respite in the entire set through a teasing middle section. Her band, though only made up of a drummer and bass player at no point sounded empty, Stern holding up enough power in her constant lead guitar so up front that it would make any rhythm guitarist redundant. In fact, she could quite easily have gotten away with standing on the stage by herself screaming through her back catalogue.
At some points the vocals veered wildly – at points wildly out of tune, and at others pulling together a cacophony of soaring melodies - it gave the impression that she doesn't want anyone, not even herself to catch their breath.
There were breaks though – there had to be – though kept to a minimum, Stern's personality shone through and gave the show a good few metres more depth. At one point, drawing a blank on what song to play next she pointedly announced "this is what happens when you haven't had sex in ages."
This is by no means her most bizarre non-sequitur, at previous shows she is much more direct about her vagina. At a show recently she discussed her views more intimately exclaiming that "vagina lips are overrated."
As the short 45 minute set drew to a close there was still room for fan-favourites like 'Risky Biz', but in the end the atmosphere in the packed out room was much more warmly appreciative than 'we've just had our socks rocked off'. If people even still say that.
The point is, that it's a strange approach to take – the relentless act that Stern has built up, peppered with her rambunctious observations, isn't a negative trait – it's not cool to put someone down on a personality, but it's the collage of sound, manic energy and dodgy mind visuals that don't seem to quite fit with the largely sober crowd that makes up a Tuesday night. While Stern is a hugely talented individual with a strong fan base, and even stronger songs - when it comes to audience engagement, in this instance she only just hits the mark, never quite exceeding it.