Mariam the Believer @ Brudenell Social Club, Leeds 16.09.2013
Mariam the Believer had Brudenell Social Club beating the air between band and crowd in her support of Junip. Not too much of a surprise for Wildbirds & Peacedrums fans, but for people arriving for a Swedish folk gig it's a bit of a slap to the eardrums.
Sep 16th, 2013 at Brudenell Social Club, Leeds / By
Ian Stanley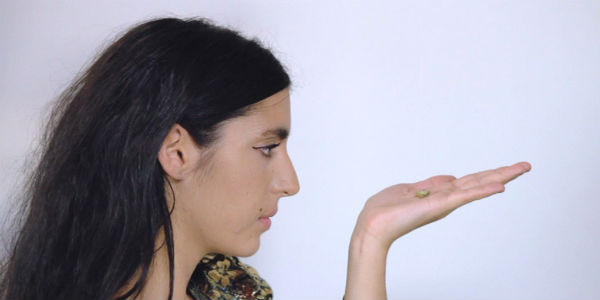 Yup. At something labelled a Swedish Folk gig, I saw a group of people, teetering on the edge of committing to a mosh, pounding the air between themselves and a woman dressed in a rainbow coloured poncho.
Wildbirds & Peacedrums have been spreading their wings recently, the husband and wife team have been collaborating with a number of people. Andreas toured with FIRE! and worked with Neneh Cherry while Mariam recorded with Lykki Li amongst more freeform projects. So to see this next project from their talented musical loins was worth bombing up the M1 for.
The short set showed off
Blood Donation
,
Mariam the Believer's
debut as a solo artist. It's a step away from Wildbirds & Peacedrums – for a start there's a guitar, an honest-to-god freaking guitar. And there's a bass. Mental.
Her backing band, which is completed by her husband ripping through a drumset like a wild man with a machete, pounds on through the set. Mariam's voice always compliments the drumming in Wildbirds & Peacedrums, and she has worked with a full orchestra before on a version of Wildbirds & Peacedrums 'My Heart' (check that out on YouTube). But with a guitar band it's something else. It's got a juicy grit.
'Somewhere Else' and 'String of Everything' roll along before Mariam's stand out track finishes the set. An unstoppable drum beat kicks in for the start of the wonderfully progressive 'Invisible Giving'. From the moment her voice crunches into the venue with "An instinct, a birthmark" it's spine tingling.
A section in the crowd begins pounding the air and bouncing off each other. She joins in hammering the space between them. Her poncho floats in waves and leads the band behind her in time. Everything builds again, by the time she howls a gravelly "We could!" the drums, bass and synth has swelled up. Eventually she closes it down to finish singing alone.
Despite the small amount of time she had, Mariam the Believer managed to leave a mark on the audience, bring out an unexpected dance move and print an image of a brightly coloured poncho on my retina. Now I just have to wait until October 7th until
Blood Donation
comes out in the UK to get the latest instalment in the Wildbirds & Peacedrums saga.