Luna @ The Garage, London 31.07.15
A decade after they split up, Galaxie 500 founder Dean Wareham's band are back sounding better than ever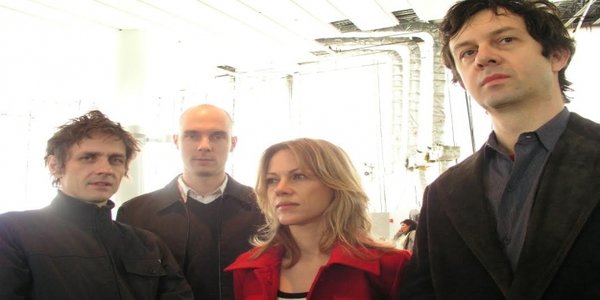 The early 90s American indie scene has been enjoying a renaissance for quite a while now. The likes of Dinosaur Jr and Sonic Youth's Thurston Moore are positively revered when they appear in front of British audiences - and a rammed Garage seems pretty darn excited about Luna's first trip here for over a decade.
Formed out of the ashes of dreampop godheads Galaxie 500 by singer/guitarist Dean Wareham,
Luna
deal in lovely, limpid indie-pop topped off with clever, conversational lyrics. It's a simple formula but a supremely well-executed one. Recently reunited after ten years apart, they sound revitalised, their clear, chiming sound sounding better than ever, and they're clearly having a ball.
Bassist Britta contributes solid basslines and coos sweetly harmonious backing vox in the classic Pixies/Breeders mode. But the musical star of the show is Sean Eden, peeling off soaring melodic guitar solos a la Neil Young or J Mascis.
Appropriately, things kick off with 'Slide', the opener from debut album
Lunapark
, Wareham's low-key vocals meshing perfectly with a loping groove which allows plenty of space for the songs to breathe. Wareham and Eden's guitars interweave to great effect throughout.
The gentle melancholy and melodic beauty of these songs combines elements of the Velvet Underground in mellow mode, post-rock at its most self-effacing and the poetic economy and late-night ambience of country. Wareham's economical lyrics can cram a whole world into a couplet. '
You know I tried to please ya/You're under anaethesia
' pretty much says it all about hanging out on the American indie scene circa '93, Bearded imagines...
Luna are poets of the night-time hours, where everything feels romantic and slightly blurred at the edges (
'Fancy drinks and lucky toasts / I like this time the most'
, notes 'Chinatown'). Wareham's viewpoint seems to be that of the decent man keeping his head where all around him are losing theirs (
'I've seen your girl / you think she's cute / don't make her crazy / don't make her sad'
, pleads 'This Time Around'). He even treats us to the occasional poppy moment in the form of the adoring 'Tiger Lily'.
A fiercely demanded encore peaks with 'Indian Summer', a great guitar wig-out that sees heads bobbing in ecstasy. The band are all smiles as they leave the stage: Luna have returned in triumph.. the new moon has risen.