LUMP @ Band On The Wall, Manchester 03.06.18
The inventive meeting of minds from Laura Marling and Tuung's Mike Lindsay make a superlative visit to Manchester's Northern Quarter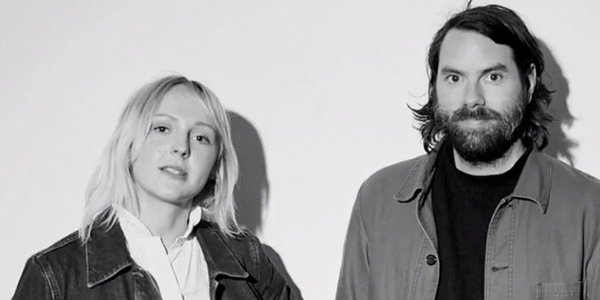 LUMP
is the love child of acclaimed singer songwriter
Laura Marling
and Tuung member/Mercury Prize winning producer
Mike Lindsay
. Creating an eclectic mix of psychedelic-folk sounding harmonies. Marling and Lindsay's collaborative pairing shows opposites do attract, as Lindsay's strange, wonky, playful, synths, drones and sound effects complement effortlessly with Marling's imaginative, surreal, lyrical storytelling and faultless, accapella, english-folk vocals.
Performing two very intimate shows (in one night) at the well-known Band On The Wall music venue in Manchester within the popular Northern Quarter. Marling, Lyndsay and company indulged an ever expectant crowd of fans and admirers with something new no one had ever seen or heard before, with the heat as close as the excitement was palpable.
The pair's one-off, just released self-titled album, LUMP, represents a Yeti like creature and the suppressed yet underlying "animal unconscious" lurking within us all, which has been forgotten in our modern, individual-driven and social-media, consumerism, society. LUMP whisks you away from this reality altogether and pokes fun at it whilst being submerged into a lucid dream state; captured by Lindsay's wild and messy, electronic, psychedelic drones and thrashy, energetic, stage presence.
With the help of Lindsay's influence, Marling has discovered a new world of lyrics and melodies, with lines like "
If you should be bored in California, I'm sure I'm not the first to warn ya...
" in Curse of the Contemporary; painting a dark, fairy-tale, picture of the vanity and emptiness of Californian L.A. lifestyles which are otherwise, subconsciously glamourised.
LUMP
comprises seven songs which the band played consecutively, fading into one another, starting with Late To The Flight a slow, soft number, showcasing Marling's ethereal, ascending, echoey harmonies and surreal, dream-like lyrics "
paint dots on your wrist to see me in your dreams
". May I Be The Light followed, highlighting Lyndsay's interesting, playful, fusion of distorted, synth-beats and folk flutes. Rolling Thunder started off in the style reminiscent of a David Lynch,
Twin Peaks
, soundtrack emphasized by the dark, neon red lighting of the venue and eerie, ghostly, harrowing, wailing from Marling, turning into seductive, silky smooth, vocals as the beat gradually builds and quickens to a satisfactory crescendo.
Easy on ears first single Curse of the Contemporary followed along with Hand Hold Hero that carried a
Stranger Things
vibe of Eighties, electronic noise, computer games and twangy, electric guitar riffs transporting the crowd, who found themselves falling into the Upside Down. Lastly but by no means least Shake Your Shelter, in which Marling envisages an intimate and beautiful, emotional, metaphor of a naked crab that can't shake its hard shell exterior; "
I know the feeling of losing a ceiling, on a beach full of empty shells, saltwater is healing, nakedness revealing, it goes so well
".
The lyrics are open to personal interpretation and introspection, although it is perhaps a social comment on the conformity and norms of modern day humanity that are unnatural, false and so far from our true nature and the hard exterior "
shells
" we all wear, a "
shelter
" to protect the sensitive "naked and sad" crab inside. If anything Laura Marling's lyrics leave much food for thought whose effect is heightened by the aid of Mike Lyndsay's new experimental ideas and imaginative, dream-like soundscapes which submerge the listener into a transfixing, deep sleep.
This writer would recommend listening to the album in full as the co-creators performed it without breaks and not to be afraid to re-visit it again so it's subtle, hidden, meanings can sink in more deeply. If you could sum up this experience in one sentence LUMP where refreshing, thought provoking, imaginative, powerful and intelligent.