Beach House/Lower Dens @ Concorde 2, Brighton 25.11.10
And we thought Baltimore was just big on house music. Tonight was an eye-opening showcase of the folky delights the East coast city has to offer too. Re-emerging after a couple of years off the musical radar, Jana Hunter has returned, with four-piece band Lower Dens in tow. It was a heavily instrumental set, with Hunters' signature, androgynous voice filtering in and out throughout in a dreamy fashion.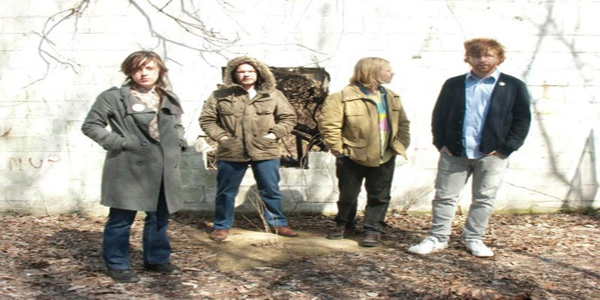 Their sound reminded us of Shearwater in some ways for the epic, atmospheric quality to their performance, the hazy strum of guitars filling the room. Despite the chill outside,
Lower Dens
transported us back to Summer days driving down the coast with one arm hanging out the window. They have an uncanny knack for strung-out melodies, it's not pop, but it's definitely catchy. They seem to pull you in with an enveloping, cleverly-woven soundscape. They've already got a name for themselves with the alt. music fans - 2011 looks ripe for the taking for this band.
French-born singer Victoria Legrand has yet another distinctive, androgynous element to her vocals. Husky, yet velvety smooth, she charms us all. The beautiful sailboat back-drop lit up the band in a myriad of colours – it looked like the lighting technician was having a field day with this one. This didn't distract our headliners
Beach House
, as they flew through a set of hit after hit; which reminded us all of the three albums they've put out already, and only just receiving widespread and critical acclaim with their most recent offering. They played a lot from their latest release,
Teen Dream
, too; 'Lover Of Mine', 'Walk In The Park', 'Norway', 'Silver Soul', and of course, 'Zebra' blew us away.
We were starting to get a little teary-eyed by this time as they are an emotional band to listen to live, we found. In this sense, we think it's a true testament to their talents as musicians to elevate a track like 'Zebra' - essentially an abstract song with almost nonsensical lyrics about a safari animal – and make it sound like the most profoundly moving thing we've ever heard. Or maybe that's the lure of vocals coupled with organ music, either way, it were bloody good.