Liz Green @ King's Place, London 25.11.11
Britain's most unique songwriter celebrates the long-awaited release of her debut album in fine style
Nov 25th, 2011 at King's Place, London / By
Gareth Main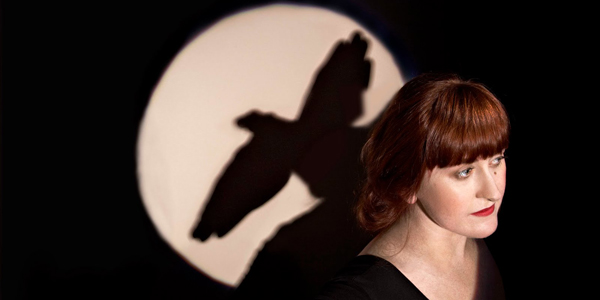 The phrase 'good things come to those who wait' tends not to apply to music. Before you can say 'Chinese Democracy' you have a list as long as your arm of artists and bands who have taken their sweet time over a record, claiming a pursuit of perfection before the result clearly defines the delay as 'lack of ideas'.
For every
Second Coming
there is a
SMiLE
or an album by Scott Walker, and in the case of
Liz Green
, fans have been waiting the best part of five years for her first album proper to finally see the light of day. With the quality it displays,
O, Devotion!
is well worthy of the wait, and surely hasn't been released too late in 2011 to feature prominently on many end of year charts.
For the uninitiated, it's fair to say that Liz Green is Britain's most unique singer-songwriter. Her wit shines on stage, and her voice is like nothing else you have heard in this century - it is reminiscent of an imagined scene in a smokey Parisian bar from an unknowable part of history. It arguably never needed to be put to record, such is the joy of experiencing in a live environment.
O, Devotion!
has a decent stab at replicating it on tape, but for the true experience, you really need to see her in the flesh.
This is something that many people know, and Green seems happy to reward those who have waited for the record with a truly personal performance with which to celebrate its launch. The show plays like 'An audience with Liz Green' as she has an involvement in everything that happens. The ramshackle shadow puppetry that has accompanied her solo sets in the past gets the big screen treatment as a support act with her musical accompaniment, and this is followed by Tamzin Forster's delightfully homespun video for album standout 'Luis'.
When it comes, Green's set itself is peppered with her well-honed stage banter, which makes the performance infinitely more personable. It is a healthily balanced act, from the a cappella opening that has been a staple of her live performances and a nice nod to the old style of singing her voice draws influence from, to a handful of solo tracks and onto the full band treatment that makes her debut stand apart from the singles we have been teased with in the past.
The band section of the set is a real delight. The interaction between members is splendid and the idiosyncrasies of the bass lines help the set along at a leisurely up-tempo pace. It's plain to see that the whole band loves every moment, and that easily filters through to the audience, who - a few inebriated idiots aside - are enraptured with every second. There is an odd relationship between the gallows humour and morbid themes that pepper most of Green's work, and the big smile on her face throughout the night, but it is a sign of quality by not taking yourself or your work too seriously.
It is rare that such a unique talent comes along, especially in the recent overabundance of artists you would crassly generalise as 'folk'. The sloppy whimsy and lower middle-aged dinner party accompaniment of the Marlings and the Mumford & Sons, or - if you're a touch more adventurous - the likes of Mariners Children and Sons of Noel & Adrian, who aren't an overly poor impression of new-age folk music, but if your bag is different and interesting, they feel just a bit insipid rather than inspired. Liz Green is that something different and interesting, who can take ten years over her next record if the result is double the five years of development and improvement that has turned her into the utter delight playing before you now.