Laura Veirs @ Bush Hall, London 16.10.14
Forget the bells and whistles - sometimes, all you need for a great night out is one voice, one guitar and a microphone stand...
Oct 16th, 2014 at Bush Hall, London / By
Ben Wood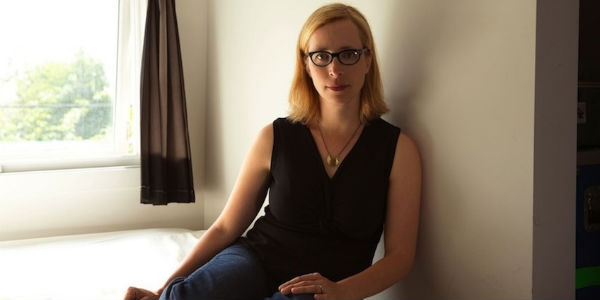 Attending a gig at Bush Hall is pretty much a guarantee of quality. A gorgeous Edwardian dancehall, its red velvet curtains, high ceilings and twinkling chandeliers ooze old-school glamour and the acoustics are second to none. The venue creates an intimacy between performer and audience that helps the more soulful, seasoned artists take their act to another level. This is where the magic happens...
Tonight's star turn is Portland singer-songwriter
Laura Veirs
, who gets a returning heroine's welcome from a crowd that seems to know every word of every song. Her career started off mining a seam of rootsy, noirish alt.country but has taken a turn into more expansive territory of late. However, despite the widescreen sound of latest album
Warp and Weft
, she's going back to basics on this short UK tour - playing solo, seeing which songs stand up on their own.
Tonight's performance covers a lot of ground, with Laura covering early favourites, new material, classic indie and blues covers and even a rather creepy children's song. In between numbers, she chats with us, utterly at ease, and even coaxes some impressive sounds out of the audience - something that definitely doesn't happen too often!
The set opens with a paean to superstar session-player Carol Kaye, whose bass-playing illuminated a clutch of 60s classics. Clued-up, generous of spirit and unshowily feminist, in some ways its a perfect introduction to Veirs' work. Poetic newie 'Shape Shifter' is one of several recent songs that express the joys and anxieties of motherhood (Laura has two young children). Its fragile optimism is immensely cheering.
A change in direction follows, as Veirs showcases the country-blues that first inspired her to pick up a guitar. 'Spike Driver Blues' and 'Freight Train Blues' not only still sound great, you can hear their influence in virtually everything that's come since. Returning to the source...
Veirs showcases her versatility as she moves from lullaby-esque love songs to a cover of the Daniel Johnston classic 'True Love Will Find You In the End' that's heartbreaking in its simplicity. Moody teenage love song 'Thirteen', from the first Big Star record, is bathed in melancholy and sublime chord changes; while 'All the Pretty Horses', from Laura's album of children's songs, has a definite sting in the tail, as she points out with relish!
By this stage Laura has the crowd in the palm of her hand, and after receiving some musical direction the crowd is making some pretty sweet noises itself. Two encores later, and the masterclass concludes. Steeped in the folk tradition, a natural communicator with a style and warmth all of her own,
Laura Veirs
is a pro. We were in good hands tonight...