Lanterns on the Lake @ The Lexington, London 22.11.11
Literally everyone is here. Not an age, creed or persuasion isn't spoken for. The Pattern Theory set the scene brilliantly, and as the violins and numerous apparatus are sound checked the crowd waits, anxiously creeping closer to the stage.
Nov 22nd, 2011 at The Lexington, London / By
Nate Selby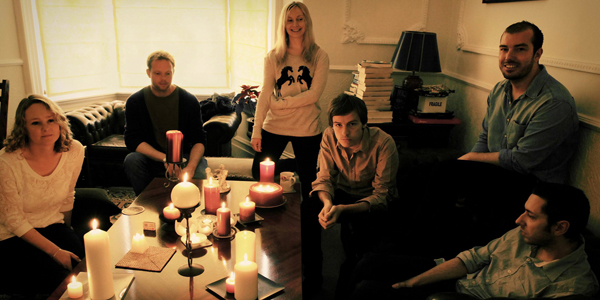 On come the night's heroes and the ever-popular single 'Lungs Quicken' holds the anticipation in limbo until a surge of distortion releases the audience into a spiral of atmospheric melancholy. The congregation, now vaguely trance like, are then treated to 'If I've Been Unkind' which leaves not a face in the building unsmiling.
Lanterns on the Lake
are able to sound akin to folk music everywhere while bringing a very distinctive alternative rock vibe and feeling whilst never shying away from an electronic twist. Imagine the child of Iron and Wine and Explosions in the Sky with Massive Attack as an occasional baby sitter.
The band is constantly switching instruments. At other shows this would be a sure sign for the crowd to break into mindless chatter, but tonight there is only patient excepting silence. These onlookers are remarkably loyal, knowing every pause, every rise and fall in every song.
Disbelief grew to new heights as guitarist/producer Paul Gregory reaches for a violin bow. The band are clearly open to experimentation, at one stage there are two guitarists on the one drum kit while the drummer fraternises with a keyboard.
One thing is made clear by the band. They are genuinely grateful for the opportunity to play for these people in this setting and truly it shows. Throughout the night constantly thanking and asserting that "this is a gig we've been looking to for a long time." The feeling is at least mutual if not reciprocated ten fold.
The band take to the stage for a slightly embarrassed encore, apologizing for the overused cliché, but they've earned it tonight by far. 'I'm Not Going Back To The Harbor' brings the night to a close, and as the contents of The Lexington stagger bewilderedly through the doors, they are handed leaflets for the next Lanterns on the Lake show. You should be there.
Lanterns on the Lake Links