Kevin Devine @ The Louisiana, Bristol 05.02.14
Following the release of his 7th and 8th studio albums late in 2013, American singer songwriter Kevin Devine has been embarking on a headline tour of the UK. Stuart Knapman was at the Louisiana in Bristol.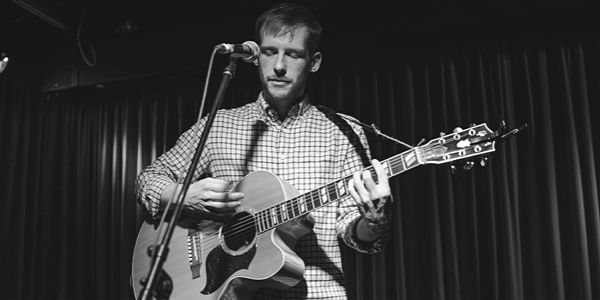 From the outside the Louisiana doesn't look like much of a venue, much less one suited to an international artist with links to arena fillers such as Brand New. Despite this modest image though it was the venue chosen for the second night of
Kevin Devine's
four date headline tour of the UK.
Climbing the stairs from the downstairs bar to the venue upstairs there is little to dispel the idea that the Louisiana is perhaps not the obvious choice for such an artist. The low ceilings and stage, barren save for a lonely bar stool, certainly aren't suggestive of such a well regarded artist.
Before Kevin's set there is first a set from local singer songwriter
Tremolo Ghosts
. The set is populated with a series of short but sweet songs which address issues ranging from childhood memories to politics. The set is a pleasant surprise, with Tremolo Ghosts' songs receiving heavy applause from the rapidly filling Louisiana. Songs like 'Nature Kids/Park Devils' would not sound out of place on one of the headliner's albums, combining thoughtful often melancholic subject matter with a delicate and emotive delivery.
The Louisiana's upper floor is reaching capacity when Kevin Devine takes to the stage. Any fears over the choice of venue are almost instantly forgotten, with the intimate setting providing the perfect backdrop for Devine's stripped back acoustic set.
Kevin played several songs from his two most recent albums,
Bubblegum
and
Bulldozer
. The solo material from
Bulldozer
sounded great, with tracks like 'Little Bulldozer' displaying the introspective side characteristic of his solo work.
The material from
Bubblegum
, recorded with a full band, translated equally well. Kevin's performance filling the stage and entirely making up for the lack of a backing band. This is something that seemed characteristic of the show as a whole, with Kevin's charisma and understated stage presence beguiling and absorbing.
While the crowd may have been small, leaving the Louisiana after Devine's extensive set there was a general feeling that it was a privilege to see such a talented performer in such an intimate setting.