Kathryn Williams @ St Pancras Old Church, London 01.08.13
From the beautiful venue to our heroine's engaging, commanding performance, this gig, on a swelteringly hot summer evening, was pretty much perfect.
Aug 1st, 2013 at St Pancras Old Church, London / By
Ben Wood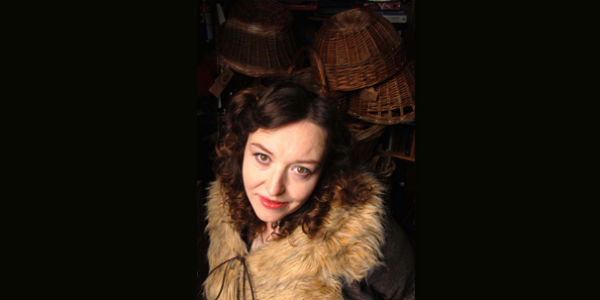 Singer-songwriter
Kathryn Williams
has switched from indie labels to majors and back, in her ten-album career. Nominated for a Mercury Prize for 2000's
Little Black Numbers
, she has dipped both over and under the radar since then.
Performing hasn't always been easy for her. But she's always had the chops, both lyrically and emotionally: she's a proper singer, with total control, great phrasing and the ability to affect an audience without needing to resort to cheap dramatics. And nowadays Williams strikes a more confident figure, as her easy rapport with an adoring crowd shows.
She's found the perfect venue to showcase songs from her latest album
Crown Electric
, which comes out at the end of September, along with a handful of older favourites. St Pancras Old Church is believed to be one of the oldest sites of Christian worship in Britain, with beautiful art and wonderful acoustics. The seated sold-out crowd of a hundred could be sitting in someone's unusually beautiful front room.
Crown Electric
is a mature, classy affair, its string parts recreated on-stage by cellist Ben Trigg, who has added depth to records by Arctic Monkeys, Dexy's and UNCLE. Along with a dextrous acoustic guitarist, he creates a spacious chamber folk-pop backdrop which Williams' voice floats effortlessly above.
Williams clearly feels at home, joking that she'd love to take her jumper off but "I can't remember if I've shaved my pits or not!" The new album's lyrics veer from hymns to a new, redemptive love, to darker musings on feelings of anxiety and unease. If any couplet sums up its message it's "Sometimes there are shadows that I have to fight / you can make the darkness light." ('Darkness Light').
The new album's opener 'Underground' depicts the panic attacks that derailed her when the Mercury nomination brought her a level of attention she struggled to cope with - and the pressures involved with doing a job you hate.
But the laughs, encouragement and applause she receives tonight shows that her openness with which she has addressed these struggles has inspired a deep devotion among her fanbase. And you can feel the love in the room, when she tells us "it feels fantastic to be up here - after years of trying to feel comfortable on stage I'm getting there..."
Her lyrics are accessible but poetic, Larkin-esque transformations of the everyday. Like the late bard of Hull, Williams is hyper-aware of the passing of time – 'Hours' emphasises that "I've got to make these hours count"; while elsewhere she asks: "How are you supposed to know you're in your prime / until it's behind you?"
She is honest enough to acknowledge the allure of escape, and oblivion. Ed Harcourt has co-written three songs on the new album - and, despite missing rehearsals, the moustachioed charmer ("Where's he gone? Is he at the bar?") joins his good friend to play keys and sing backing vocals on two beautiful songs. 'Sequins' is a darkly beautiful meditation on death, Williams planning to glam herself up for the afterlife and musing "I'm pulling the strings / of strange medication..."
Despite the largely unplugged format, her deft phrasing and some lovely chord changes twist the songs into interesting shapes. You wonder what she would sound like with a whole orchestra behind her.
'Little Black Numbers' sees Williams duetting with herself to spectacular effect as she samples and loops her voice, turning herself into a ghostly and beautiful doo-wop choir. As with so much of her material, this is a simple idea beautifully rendered.
Williams' voice never seems strained as it ranges from conversational murmur to belting it out on the Harcourt duet 'Morning Twilight'.
The first encore begins with Williams, sans band, hymning human values over materialism on 'The Known'. And she concludes with a treat for her manager Sharon, a Springsteen nut, as 'Dancing in the Dark' is reconfigured as a swaying countrified lullaby. Then she departs to cheers and whistles: this once-hesitant performer has returned as a singer in total control of her craft.