Justin Townes Earle @ Union Chapel, London 29.01.11
Justin Townes Earle has a hell of a pedigree, and a pretty decent back story too. He may have recently relocated to New York, but this skinny, moody, charismatic troublemaker is as Southern as fried chicken and old-time religion.
Jan 29th, 2011 at Union Chapel, London / By
Ben Wood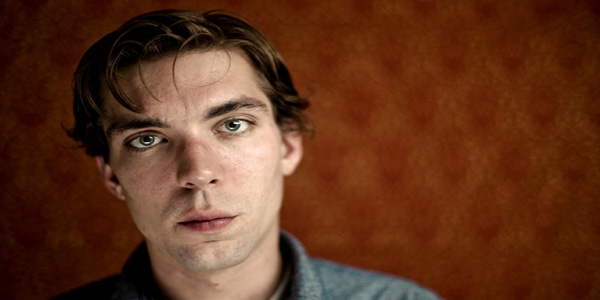 The son of cult singer-songwriter Steve Earle, he was named after doomed troubadour Townes Van Zandt – and like both these men, Earle has spent years battling his compulsions and trying to do a major talent justice.
Earle's latest record, Harlem River Blues, is his fourth since 2007, and fits comfortably into the lineage of classic American songwriting. As well as raising hell like Hank Williams and Johnny Cash, he can write songs like them too; and his simple, soulful tunes have a timeless appeal.
Live, these three-minute jukebox anthems, infused with a deep feeling for soul, gospel and rockabilly, are backed by a nine-piece band with strings and horns. But this sold-out gig sees Earle playing solo – his charisma and impressive singing and playing easily able to fill this classy but relatively intimate venue.
Looking every inch the 50s badass in denim, tattoos and clicked-back hair, Earle opens on a Jerry Lewis tip, his percussive rockabilly guitar and authoritative voice fighting the venue's famously awful acoustics. Throughout the gig, they swallow up some of his vocals, which is a crying shame.
Earle's lyrics flit between romantic, melancholy and defiance. We get 300mph talking blues, tales of recklessness, infidelity and homesickness ('One More Night in Brooklyn'), confessions aplenty ("I only have two problems – incarceration and chemical dependency")… and a serious dose of grade-A chauvinism.
Between songs, Earle jokes about cheating on unworthy women, being kicked out of the house, and the occasional female he deems worthy of dedicating a song to ("doesn't have to be a good one, though…")
He revels in his bad-boy image, and you feel his last trip to rehab might not be his last ("I like to drink vodka all day and do a lot of cocaine… not any more, of course…"). 'Slippin' and Slidin'' is a rueful morning-after tale of falling off the wagon, but Earle sounds like he misses the old crazy days.
A consummate musician, Earle treats us to a wider range of styles than you may expect: a Lightnin' Hopkins-style country blues was particularly fine. We even get some new material ("I'm sick of the last record!") before this confirmed sinner plays a couple of gospel numbers "to save our asses" in this house of God.
Clearly loving every minute, Earle keeps the songs coming. Harlem River Blues already sounds like a classic, though we miss the record's gospel choir; and a cover of Springsteen's 'Racing in the Street' is shiver-inducing.
After a couple of friends join him on mandolin and washboard, he leaves us to a standing ovation. Mad, bad and dangerous to know, Earle is a star in waiting if ever there was one. If he can stay out of trouble - and it's a big if - this shouldn't be the last we hear of him.
Justin Townes Earle Links