Justin Townes Earle + Andrew Combs @ The Union Chapel, London 06.02.15
Two of Nashville's finest songwriters bring songs of heartache and hope to London to round up a brief UK tour.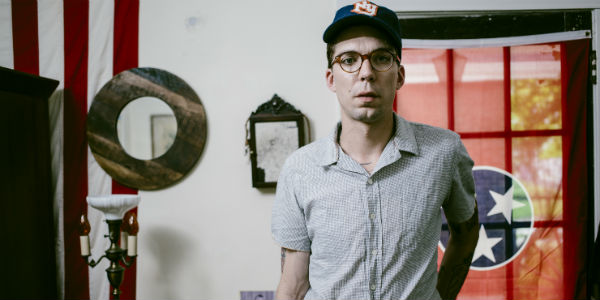 The Union Chapel in Islington, was opened 138 years ago. It is hard to imagine that the founders ever envisaged a day where the pews would be filled with eyes eagerly upturned to hear a tall and slim Tennessean proclaim, "This is my Momma's favourite song, so… we're gonna fuckin' do it… right here, in this church."
But, such is life and such is the
Justin Townes Earle
live experience. Named in honour of Townes Van Zandt, the Texan songwriter legend who was a mentor to Justin's country-rocker father Steve Earle (the original 'hard-core troubadour'), it is fitting that Earle continues the lineage of personal and self-effacing song craft professed by his two namesakes.
The advancing age of the assembled congregation betrays the likelihood Earle Sr's ongoing successful career and dedicated fan base is, in part, responsible for the interest in Justin Townes. However, Justin is a far different performer from his father, and unique and interesting in his own right. Paired with label mate, fellow Nashville local, and swiftly rising talent Andrew Combs it is a bill that threatened to be great from the moment it was announced.
It is bracingly chilly when
Andrew Combs
strolls onto the stage just after 8pm and the crowd is quick to quiet while the singer smiles wryly at a piece of A4 paper gaffa-taped to the microphone stand and a woollen pile at his feet. He reads the note from Earle's tour crew; "Here's your sweater, it's been great having you but we're sick of toting your shit."
Combs has clearly invested as much effort into stagecraft as he has refining his articulate songs into sublime 3-minute-30 packages. His set is short, but he does a fine job winning the audience over with a self assurance that puts the room at ease and witty conversation that gives him the sound of an 'old hand' experienced well beyond his 28 years.
Opening with 'Month of Bad Habits' from the recently released
All These Dreams
LP, it is exciting to hear that his voice and plucked guitar create a fullness that doesn't leave a needing for the full band of the studio album. He jokes at one point that anyone would sound good singing in such a venue. Perhaps they could for a song or two, but it takes something special to keep hundreds of someone else's fans nodding to your music. Combs should be pleased that one of the most enthusiastic responses was reserved for a brand new composition called 'Silk Flowers'. Recent single 'Foolin'' closes out a great support slot, Combs hopes to be back in the UK before the end of the year and he must be seen.
Justin Townes Earle
is touring in support of his two LP releases in the past 6 months; September's
Single Mothers
, and January's
Absent Fathers
. It is from the latter that the opening track of the set is chosen. 'Burning Pictures' is a wistful, laconic rock 'n' roll tune on record and live it's backed by bluesy chops from Paul Niehaus (a founding member of Lambchop) on guitar. Two guitar duos are often the preserve of pubs that still sell John Smiths on tap so I am relieved to hear Niehaus bring years of experience to bear in complementing Earle's songs neatly with grit at the right times and backing off when needed.
There is a little of anti-folk hero Jeffery Lewis in Earle's manner; he is self-deprecating and (relentlessly) mistake prone. Such goofy "what song are we playing again?" shtick can wear thin pretty quickly but Earle is engaging and genuine. His confessional song subjects are amplified by the swooping vaulted ceiling above; 'Learning To Cry' is extra desperate, 'One More Night in Brooklyn' is extra sweet and 'White Gardenias' is extra poignant. The last being a tribute to Billie Holiday whom Earle attributes as a huge influence on his 'lazy' vocal delivery. Throw in Fleetwood Mac and Replacements covers and you have a rare approach to songwriting that seems at its best exposed on stage. An "asshole early" flight home for Earle in the morning draws the set to a swift close after a two-song encore and it is great to see the merchandise table swamped on the way out.
Justin Townes Earle Links