John Cooper Clarke @ Brudenell Social Club, Leeds 03.06.11
Back in the Brudenell with a large group of old folks and a sprinkling of youth whose common problem is that they aren't someone else, and a gangly figure shrink-wrapped in a suit falls onto the stage, ushering in a wholly reverent silence.
Jun 3rd, 2011 at Brudenell Social Club, Leeds / By
Jack Sibley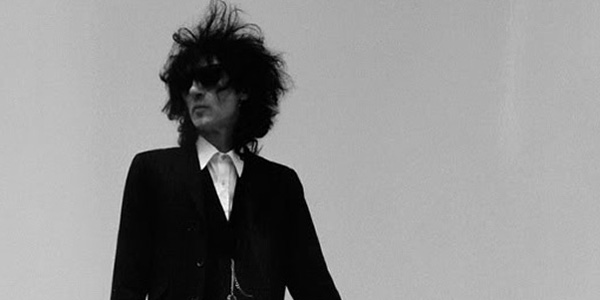 Despite it being thirty years on from his performing heyday, the Salford bard hasn't changed a bit. A scarily thin silhouette of a man clad in the trademark black skinny jeans, red tie and hedgerow hair,
John Cooper Clarke
still comes across as a character from a punk fairytale. Still swaying back and forth from the mic, still hysterically giggling his way through the interludes between poems, still reciting with machine gun ferocity and power.
After starting with what feels like a runaway train of a tangent on how "the Chinese make the rest of us look like cunts", 'Hire Car' is the first piece of the night. It's a classic and goes down well with a crowd who have clearly studied his material. Finishing that off, Clarke doesn't stop and the jokes come thick and fast with puns and wordplay galore. Problems that arise with his inability to read his own writing out of the ripped and torn notebooks he carries around in a shoulder bag only add to the hilarious display as he apologises and busts a nerve trying to push the words out. At one point he even requests more light on the stage whilst insisting on keeping his shades fitted to his face.
The topics chosen seem entirely random and yet there is still a strong sense of flow to his set. Whilst jumping from marine biology (the burgeoning career choice of the twenty-first century) to 'Lydia – Girl with an Itch' (a short piece about a victim of Chlamydia), John sips on his water and takes us on a fascinatingly vivid ride through his vibrant imagination. Conjuring images in the centre of the floor that are as realistic as any CGI, it really is hard to figure out where it's all coming from.
John's encore ends the night on a strangely sad note. After giving us a rendition of 'Beasley Street', he flips the coin and pulls us out of the seventies with the new and improved 'Beasley Boulevard'. Apparently based on what Beasley Street has become since it was renovated, it shows us that, whilst Clarke sounds like he was complaining in the original, this new boulevard is most certainly not to his taste. With its vitality sapped by the modern age, 'Beasley Boulevard' is a song of mourning for his old street and the time it came from.
As he turns his back to the crowd, they're shamed to see him leave
But what an impression he created with the words that he weaved
A fan follows him backstage with wonder on his face
They can't find a good word for him but I can: ace