Joan As Police Woman @ St George's Church, Brighton, 21.06.19
Brighton is the opening night for an excellent career-spanning retrospective from the venerated US singer-songwriter
Jun 24th, 2019 at St George's Church, Brighton / By
Richard Lewis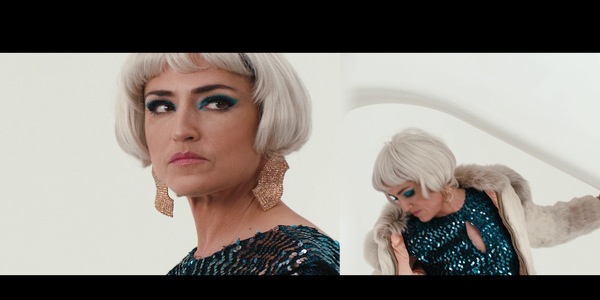 It's Summer Solstice on the South Coast and Joan Wasser - aka
Joan As Police Woman
– is in a sunny mood. "There's more time to feel alive today," she drawls with a languidness reflected in the two piano-backed opening numbers, Wonderful and Warning Bells.
Touring a set that dips deep into the 15-year solo career spanned on her current triple disc
Joanthology
retrospective, Wasser has dressed retrospectively too with a glorious poodle perm and
Dynasty
-style outfit whose wonderful daftness she acknowledges with a shimmy during a delicious bluesy cover of Prince's Kiss near the end of a brilliant two-part set.
Wasser's songs often mask ingenious complexity beneath apparent simplicity. Wonderfully clever piano breaks run through songs like What A World and the dazzling Christobel, while To Be Loved adds some brilliant soaring vocals.
Dextrous guitar lines light up numbers like Tell Me, while an old 1970s Roland provides electronic backing for brilliant bravura numbers like Flash, through which Wasser's voice goes through a gamut of wails and vocalisations that turn into the raunchiest of torch songs.
As ever with JAPW, the emotional depth of the songs is always upfront for this endearingly open performer – as when she shares a long explanation of the tortured backdrop with a wannabe lover behind Real Life.
It's one of a string of jewels of restrained beauty, such as We Don't Own It (dedicated to Elliot Smith) and Forever And A Year, where her voice squeezes out lines whose pain is wrapped in silk. Ditto for Start Of My Heart and the closing number in the encore, an elegiac Your Song that perfectly counterpoints the sturdy delivery of The Ride just before.
There's a quiet rapture throughout that fits the beautiful church setting, and there's a great moment at the end of What A World where there are audible gasps of wonder from somewhere in the crowd. "I live for utterances," says Wasser happily. "I know then I'm doing my job." Job done. Go see a brilliant artist revelling in her work.
Joan As Police Woman Links