Jenny Hval @ Hoxton Bar & Kitchen, London 11.11.15
It's difficult to define what Jenny Hval does. Is it electronica? Performance art? Who the hell knows? It's bloody good though...
Nov 11th, 2015 at Hoxton Bar & Grill, London / By
Ben Wood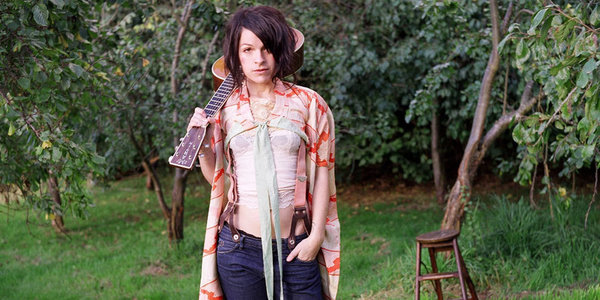 Jenny Hval
is a force of nature: to call her a singer seems limiting somehow. The Norwegian art-pop provocateur is a novelist, poet and artist whose complex, sexually frank songs, videos and performances are packed with ideas as well as melodies. But her art and her feminism aren't dogmatic, difficult or some arid intellectual exercise: touring recent album
Apocalypse, Girl
in front of a packed and respectful Hoxton crowd she is funny, entertaining and endlessly watchable.
Hval opens with spoken word piece 'Kingsize', a manifesto of sorts that begins with the clarion call 'think big girl'. Wearing a long, silvery wig - and toting a large exercise ball (!) - she reminds us that, to some extent, femininity is a social construct: a mask to wear. But at the same time, her directness (the 'C' word gets a frequent airing) challenges the notions of the passive 'good girl'.
Her accompanying synth wizard does a sterling job of providing a musical backdrop to Hval's musings. He conjures up everything from ambient pulses, sound collages and bursts of dissonance to post-dubstep judders, chunky beats and gliding melodies. This may sound forbidding, but his textures are always welcoming and interesting. The tracks are divided between more experimental, sometimes spoken word pieces and more obvious tunes that get heads bobbing.
In the truest sense Hval is a vocalist rather than just a singer: over the course of her hour on stage she whispers, monologues and screams. When she is singing conventionally she often stays in a softer register but has a strong voice when she chooses to deploy it on the likes of 'Paradise' and 'That Battle Is Over', the nearest that
Apocalypse, Girl
comes to an anthem. Hooky and addictive, with an unstoppable creeping momentum, the song is a wonderful take-down of Francis Fukuyama's now-notorious post-Cold War idea that the global battle of ideologies is over, capitalism has won and we should celebrate this fact. As capitalism goes insane in 2015 and feminism is rediscovered once more, our heroine joins the battle, less than delighted by the fact that 'we are now free to consume...' and define ourselves thus.
There's always something odd and stimulating going on on-stage: at one point Hval puts Lana Del Ray's 'Summertime Sadness' on her iPhone and lip-synchs along to the song. Halfway through the gig, she makes a symbolic costume change from all-white to all-black; 'Heaven' is positively ecstatic; and the gig ends with Hval crouched on the floor as she performs weird ambient-esque epic 'Holy Land'.
Lady Gaga may have called her last album 'Artpop' but this is the real deal. Jenny Hyval is in full control of her art and she glories in making us think. Lucky us. This is great stuff… one 'apocalypse' well worth welcoming.