Iceage @ The Shipping Forecast, Liverpool 26.02.13
Critically lauded Danish punks bring the noise to Merseyside
Feb 26th, 2013 at The Shipping Forecast, Liverpool / By
Richard Lewis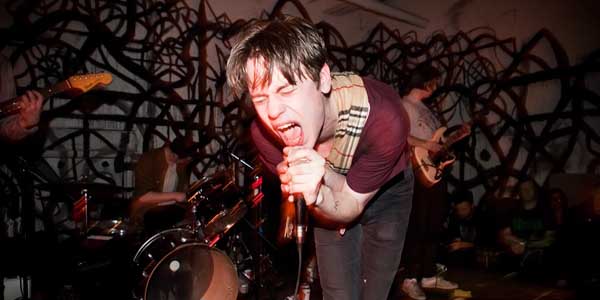 Although the year has yet to break into its second quarter, by the close of 2013 Danish punks
Iceage
look likely to retain the accolade/millstone of most talked about new band of the year.
Fellow Copenhagen resident
Puce Mary
, the project of Frederikke Hoffmeier sets the scene for the headliners in suitably deafening fashion. Working his way through a bricolage of samples that evoke the less accessible moments of Lou Reed's
Metal Machine Music
, the set evokes a sound roughly akin to a tube train attempting a handbrake turn.
Sauntering onstage
Iceage
launch straight into opening gambit 'Ecstasy', a track that shows their approach writ large: serrated guitar lines, slightly submerged in the mix vocals and wilfully opaque attitude.
In view of the band's famed weapons-grade sullenness in interviews, live the quartet turn this to their advantage, channelling their unspecified grudge towards the world at large into their playing.
Frontman Elias Bender Rønnenfelt, slowly rotating around the stage like a slo-mo spinning top, turning circles before untangling himself from his mic lead, aside from a few mumbled song titles is wordless between songs.
Despite some initial indifference from the near-capacity crowd, the situation is remedied three songs in by Rønnenfelt stepping from the low stage and heading out into the audience. Hollering his lyrics face to face with the crowd generates the hoped-for response, providing the catalyst for the nearest thing to a circle pit the cramped confines of The Hold will allow.
While the vocals are deliberately murky, the impressive riffage carries the tunes effectively, the songs starting up in what seems like complete chaos, levelling out beyond their intros into spiky blasts of invective.
An impressive showcase for the buried-deep melodies of new LP
You're Nothing
, the recipient of general critical delirium, the Danes truly look set to be it for the long haul.