Iceage @ Clwb Ifor Bach, Cardiff 08.09.18
A small room in the Welsh capital gets shaken to bits as Copenhagen's finest tour the UK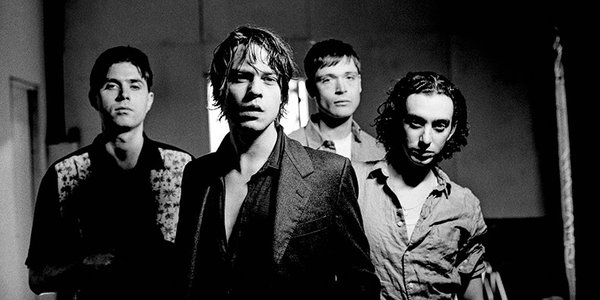 Cardiff locals
Private World
open with a set that reveals how the rest of the night will play out; dense waves of abrasive sound bouncing off the walls of the colloquially known 'Welsh Club' over a seemingly ever-thickening crowd. They are followed by Iceage's Copenhagen neighbours,
Josiah Konder
who begin their set by beckoning the crowd closer to the stage. The congregation, of course, obliges and the area at the foot of the stage becomes a tightly packed hive, ready to receive the blessings of singer Julius Ernst as he gesticulates over the heads of the front row like some enraptured preacher. With sleeves rolled up and hair lank with sweat, it's clear that the invading Danes are taking no prisoners tonight.
Between sets, the members of
Iceage
live up to the drunken lore they have woven for themselves as they wander between the smoking area and the bar, stopping occasionally to graciously accept compliments on their music and pose for smileless photographs. When the time comes, frontman Elias Rønnenfelt ambles through the crowd and onto the stage as the rest of the band materialises behind him.
As soon as the headliners start playing, the night is kicked violently into the next gear by the sheer volume of the spectacle. When the band bursts into the raucous, country-inspired The Lord's Favorite, the whole room appears to silently scream the lyrics as the amplifiers completely drown out every voice. This doesn't seem to discourage anyone in the room from joining in as the band gracefully stitches together songs from their four varied albums into one solid performance as the jaunty Thieves Like Us leads into the inescapable punk chaos of Coalition.
Seeing Iceage play in the flesh is much like seeing a friend's band as the lack of pretention in their performance coupled with their willingness to embrace the crowd into such an intense shared experience creates an atmosphere where no barrier stands between performer and audience. You bear witness as each member grows ever wearier between the brass and string accompaniment that frames the relentless post-punk it surrounds. It's something that, in the best way possible, leaves you feeling like you've just survived a great ordeal.