Hope & Social @ The Luminaire, London 23.09.10
A warm and sizable venue whose inscribed walls certainly don't hold back from reminding you to shut the fuck up whilst the bands are playing... an excellent support set by Arthur Rigby and the Baskervylles leads us into the main act of the night...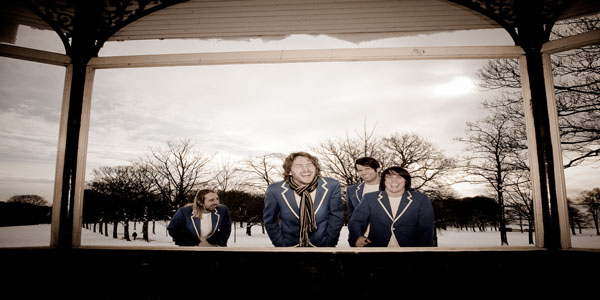 We all love going out on a night for a hearty three course meal and some nice wine-y booze, no? We sure do here at Bearded. Well, imagine how much better that meal would be if your favourite band waited on you and satisfied your every culinary request. But then to watch them play a show for you while you sit comfortably in your cushioned chair, full of delicious food and wine? This is surely bordering on the sublime and even the ridiculous! A scenario even the luckiest of us can merely fantasise about. For what band could possibly have such commitment to their fans as to personally feed them before a show (not to mention the rare phenomenon of musicians actually possessing the organizational skills to host such an event)? Ladies and Gentlemen… we bring you
Hope & Social
.
Unfortunately we missed out on this event (can you hold another one please?) but managed to catch a music-only show. At a packed gig full of eagerly awaiting fans chatting excitedly, H&S make their way onto the stage and open with the instantly memorable 'Living a Lie'. Singer Si Wainwright's gravelly voice throws around a brilliantly simple melody over chaotic but very tight instrumentation. The fans dedication to the band soon becomes clear as a good chunk of the room start singing along with vigour to every word that comes out of Wainwright's mouth. Positioned on the more aggressive side of Radiohead, while having luscious arrangements akin to that of Elbow – they create an invigorating sound and waste no time beginning a very confident set. The age range of the audience was equally as striking as the eager crowd participation (which, I might add, was not the type nauseatingly egged on by some ego maniac front man desperate to be liked).
A band connecting so well and so enthusiastically with their audience is seldom seen – but the connection could not have been more evident than it was at this show. The intimate rapport with the audience was on going. At risk of sounding like a romantic old swine, one really did get the sense of the audience playing as equally an integral role toward the creation of the music as the band. This sense of unity reached a heart-warming peak halfway through the set in the stunning song 'Looking for Answers'. Wainwright shouted over to the sound engineer to cut the PA, and as he stepped out to the front of the stage and began playing, the 200 people or so in the audience became utterly silent - a surreal experience to say the least. The song displayed a brilliant and unashamed lyrical honesty with lines like 'Snuggle in with the one that I've had and now hold'. Couple this with a chorus melody that could stun even the coldest of reviewers, and you have an entire room signing their hearts out like nothing else matters in any of their extremely varied lives.
Hope & Social are back in the studio in November to commence recording for their third album, which is due for release next spring. Their latest offering 'April' is available to download (pay what you like) from their website hopeandsocial.com.