Harrys Gym @ Nation of Shopkeepers, Leeds 10.02.11
For anyone who doesn't know it, Nation of Shopkeepers in Leeds is one of the places a lot of people seem to like to be seen at. In fact it was on this night that Bearded almost threw up after sighting a sticker saying 'HIPSTER' in big black capitals behind the bar. However, work through this and they actually put on some darn good bands every once in a while with tonight being no exception.
Feb 10th, 2011 at Nation of Shopkeepers, Leeds / By
Jack Sibley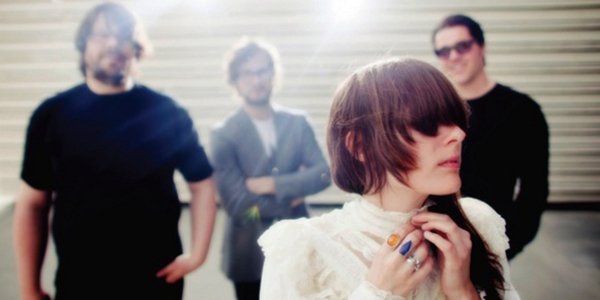 I Swim With Sharks
were disappointing. Despite being dressed in their finest threads, the lead singer was soft and mostly unoriginal. His guitar work shone through at times creating moments of interest and there were some nice catchy tunes thrown in, but the overall song architecture was predictable and the performance dull.
Shortly after they had finished, the heroes of the night
Harrys Gym
took the stage. Now, for a band to come all the way over from Norway and put on a free show is already quite something, but for that show to fill out the venue with intensely satisfied, and even awe-struck, fans was genuinely an amazing experience. Not only this but these modest Scandinavians even seemed slightly bowled over themselves at how well-received they were. This only served to feed them more energy, thus setting up an accelerating crescendo effect through the energy loop between band and audience.
And who was enjoying herself the most but the beautiful Anne Lise. Complete with guitar, hair and feathers, she formed the band's swaying centrepiece and rocked her way through the entire set with a beaming smile on her face. Aye, it was truly a sight to behold when she let go and sang the distorted vocal line (slightly reminiscent of Elastica's '2:1') at the end of 'Top of the Hill'.
The highlight came as
Bearded's
imagined energy loop reached its conceptual peak during the penultimate track 'Sarah83'. With belting energy, foggy beats were brought up and down with the words 'blow the candles out' ringing through the top. The drummer went mad on most tracks but with this sawtooth amplitude and regular dives back into their pool of sound, he was worked even harder and managed to show off fleshed-out beats without once being intrusive.
The guys finished their set and walked offstage leaving the audience gagging for more. However, an enjoyable night had been had by all and seeing a band have that much fun warms the heart like nothing else.