Hafdis Huld @ Source Below, London 01.11.10
Star quality – it's impossible to fake, and Hafdis Huld has it in spades. Iceland's self-styled "Pop Princess" lights up this Soho cellar bar with an unplugged performance that would charm the birds from the trees.
Nov 1st, 2010 at Source Below, London / By
Ben Wood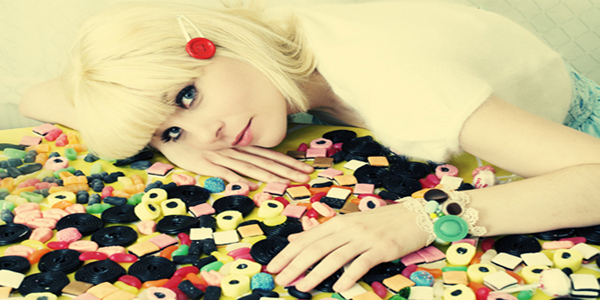 She may have collaborated with the likes of GusGus, FC Kahuna and Tricky, but Hafdis has a style all of her own. Backed ably by two acoustic guitarists and a percussionist she roped in at short notice, she tells quirky, captivating short stories about love, longing, ski jumpers and urban Spidermen, taken from her two solo albums –
Dirty Paper Cup
and her latest,
Synchronised Swimmers
.
Hafdis has been performing live since her teens, and boy does it show. Her voice is a thing of beauty – sometimes soulful and vulnerable, sometimes rich with open-vowelled wonder. A natural entertainer, Huld prefaces most songs with monologues which show that, if the day job ever palls, she would be a natural stand-up comedian. Engaging as she undoubtedly is, though, the whole package works because these are some seriously likeable, hooky songs - whose subject matter runs from the lovelorn to the frankly eccentric (BBC 6Music DJ Phill Jupitus once called Hafdis "The most mental person I've ever interviewed").
'Ice Cream', written at 16, sagely advises "Ice cream is nice / Monsters are not"; 'Action Man' sees a bored, lonely woman conjuring up an exciting fantasy involving her next-door neighbour; and 'Kongulo' is a tribute to a man who dares to live an extraordinary life, no matter what the risks. Elsewhere, bitchy girls, school crushes and the long Icelandic winters all get addressed.
In among the quirkiness, are a number of swooning, heartfelt ballads that show off Hafdis' stunning vocals. She may be more temperamentally suited to acting the clown, but she can get soulful and sincere when she wants to.
In her home country, Hafdis has enjoyed number 1 records, and her low profile over here is an injustice. The likes of Radcliffe and Maconie love her, and so should you. Warm, funny and charismatic, she's a superstar waiting to happen. Make it so, people…