Ghostpoet @ The Bodega, Nottingham 18.10.13
A sold out room at Bodega in Nottingham crammed in to receive an intimate word in the ear and an electronic groove in the bones from Ghostpoet, at the start of his UK tour fresh from critically acclaimed festival slots.
Oct 18th, 2013 at The Bodega, Nottingham / By
Ian Stanley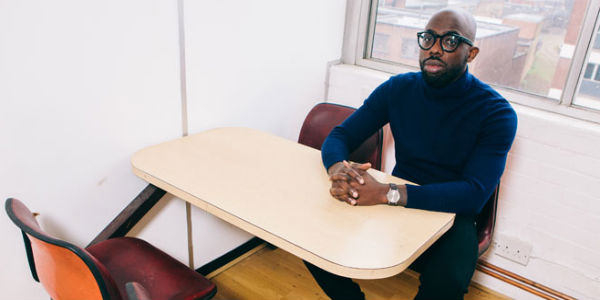 To be honest, with his growing reputation it was surprising to see that
Ghostpoet
hadn't been forced to play at a slightly larger venue. And I think everyone else was just as amazed that they could be this close to Ghostpoet, real name Obaro Ejimiwe, considering the number of new fans as a result of festival slots over the summer.
The crowd continued to be in awe as Ghostpoet played an equal mix of old and new songs. 'Cold Win' and 'Meltdown' from latest album
Some Say I So I Say Light
were well received but the familiarity of older songs took the gig to the next level.
For fan favourite and anthem for the hungover, 'Cash and Carry Me Home' he lingers on a pause or a word. It feels as if he is reflecting on the lyrics as he delivers them. This continues in other songs and makes his clever angle on everyday objects, like the link between pork pie hats and pork pies get the attention it deserves.
'Us Against Whatever' drawls to the chorus line. Arms fly up in the air and fluctuate in time to the music. Camera phones flash. A drone of the chorus line "It's us against whatever, babe" comes from the hundreds of bodies crammed into spaces at the feet of Obaro Ejimiwe. In the darkness and beams of light the crowd grabs the morning-after vibe from the song and reverbs it with a half-smiling joy. It becomes hypnotic. This is quite simply spine-tingly brilliant.
It may well be this and the intimate nature of reflections on his words that make it such a natural performance. His interaction with everyone in the room is so comfortable it's as if he were talking and joking with a friend in the pub. He's not over-confident or shy but smack-bang in the middle with just the right amount of humility.
That spreads to his band as well. They're so chilled out that one member takes a moment to lean back against the wall, enjoy the music and take a casual drink from his beer.
Ghostpoet has said he doesn't like to be pigeonholed or defined into a genre, he just wants people to enjoy what he does. With that in mind I'm more than happy to kick people to go and see him, regardless of their musical preference before he sells out gigs faster and being so close to this intimate, electric, poetic, hypnotic, reflective performance becomes even more difficult.