Ghost Outfit @ Bumper, Liverpool 19.03.12
Mancunian duo Ghost Outfit on bludgeoning, persuasive form live in Liverpool.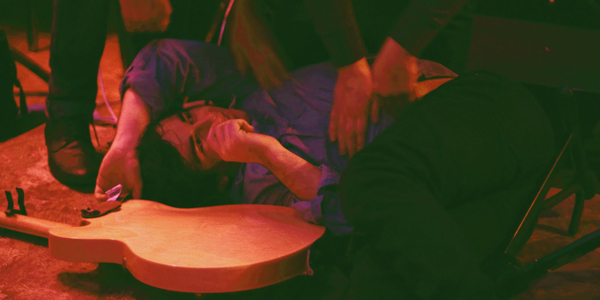 Up first in the back room of Bumper,
Fonetiks
boom out of the inky darkness, illuminated only by projections scrolling across the back wall behind them, their swirling vortex of rock and electronica in typically robust form, a mélange of circuitry n' guitars that is perfectly counterbalanced. Their set morphed into one endless rush of sound, 'No' pulls off the unique achievement of marrying roaring Soundgarden-esque grunge with glitchy electronica.
Young British Artists
on next avoid the pretension associated with Charles Saatchi's Chosen Ones, instead opting for a rumbling wave of intense testifying and gospel organ swell, coming across like a speedier, English version of The Walkmen. With the keyboards occasionally smothering the songs, the sound unfortunately becomes a jumble at points, a disappointment as their recorded output thus far more than passes muster.
Pitching their amps and drumkit in the centre of the floor,
Ghost Outfit
serve notice before a note is played that their set is likely to give even Kevin Shields earache, boasting a Fender Twin and a behemoth of a Marshall stack in their sonic arsenal.
Whereas The Black Keys jack the kick drum up in the mix to compensate for the lack of a bassist, Ghost Outfit instead crank the guitar up loud enough to give someone in the country next door tinnitus. Singer-axeman Jack Hardman, restlessly pacing back and forth in front of his amp makes for an intriguing presence, even with his back partially to the audience.
The gnarly New York-inspired riffage is underlaid with the mechanized thud of the Industrial Records roster, one critic's comparison of the duo to veteran noiseniks Throbbing Gristle borne out by the impact of the duo's playing.
While several of the tunes are beclouded by the hissing ultra-volume, the pair's song-writing chops shine through. 'Tuesday' joyously sprints along like the Mary Chain after being told they have just scooped the Euromillions jackpot, while the mixture of loud and quiet, light and shade deftly showcase the duo's sure grasp of pop dynamics.