Fucked Up/Black Lungs/Eagulls @ The Well, Leeds 09.05.11
Jack Sibley delves into The Well in Leeds and tells us what he finds...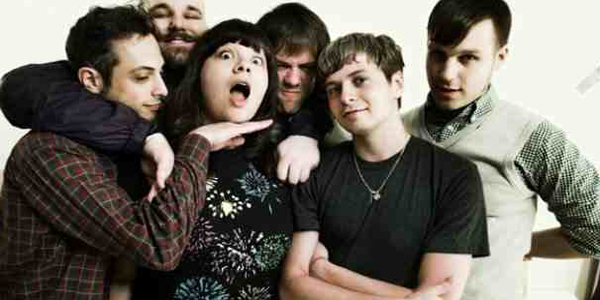 First up were Leeds' punk heroes
Eagulls
. Yes, Leeds seems to be talking about these guys a lot at the moment and they've certainly managed to nail their recent recordings but there was something about the stage show that just didn't click. Playing some great, simple rock and roll riffs, the band are spot on and provide a tight background for the singer. Unfortunately, that's the flaw. Having said in interviews "I don't remember a single gig we've played", their singer was just drunk. He fell about the stage in a way that suggested a lack of connection with the music and generally just looked a bit bored. This was just one gig though and they certainly seem like a band who would be quite powerful if on form.
Black Lungs
started their set up with a roar of the line "Leeds, are you as bored as I am?" and performed a neat swan-dive into the punky abyss that followed. Chugging through the powerful demands that made up their manifesto, Black Lungs were highly entertaining as much as anything – frontman Wade McNeil wove a sense of humour into song links and the atmosphere in the pit that is the Well was at fever-pitch. The change in attitude from the previous band was refreshing and it was another case where a little passion and certainty pushed the music in our faces just that bit harder. Black Lungs finished up their set by passing the guitar over to Fucked Up's very own Jonah Falco and jamming out a final song before finishing up and leaving.
So as the light bounced off the skulls of the bare-headed rabble,
Fucked Up
took the stage. Their melodic punk was quite different from previous bands and it's quite refreshing to see musicians taking some liberties and playing around with the genre they've chosen. With six members onstage, the co-ordination was brilliant and everyone played off each other very well, each knowing when to drop out or back another up. We were treated again to a frontman with a sense of humour and the highlight of the set was the track 'Fake', which was preceded by a short monologue about a venue the band had played that wasn't up to scratch on their authenticity meter.
Overall, this was quite a varied night and it was very exciting to see such different bands playing on the same bill and paying each other their respects. Many thanks to the Well for another strong dose of heavy live music.