Frank Turner @ The Jailhouse, Hereford 27.11.14
The songsmith-messiah returns with brand new material to bid a final farewell to a full house at a troubled venue, closing, ironically, due to lack of interest.
Nov 27th, 2014 at The Jailhouse, Hereford / By
Jack Sibley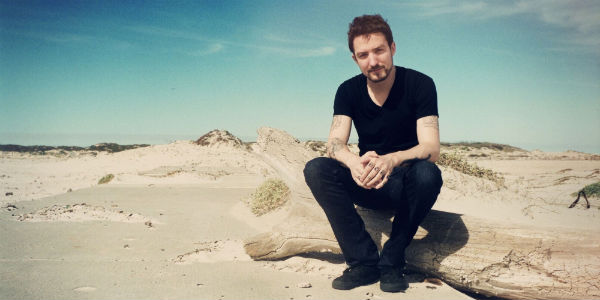 "Jack Spreckley?" asked the lady at the door
I sighed, smiled, shook my head and stepped back outside to nudge-via-text the current co-manager of The Jailhouse, Anthony 'Murph' Murphy.
It's hardly surprising the ever-modest Bearded Magazine had been forgotten in the slipstream of the events that have erupted over the past month. Almost exactly one month ago Murph, and partner Lee Symonds, announced that they would be stepping down from managing The Jailhouse after New Year's Eve, news that rocked Hereford, and is just reaching outlying towns. Reasons for closure boiled down to too many quiet weekends having reduced the pair to volunteers after around seven years of service.
Have no fear though, for the announcement did not fall on deaf ears! Folk crusader and apparent twitterrer
Frank Turner
publicly mourned the loss and got in touch, offering to play a final farewell gig to see the venue passes peacefully to the other side.
We got through the doors just as The Sleeping Souls were getting onstage and Frank was announcing that they were to start the night by playing the upcoming album in full, before moving on to the old stuff. Starting with a track called 'The Angel, Islington', with the screamed mantra "we can always be a little better", the band segued confidently through gypsy punk à la Gogol Bordello, a ballad about the weather complete with Journey on keys, and love songs galore, all grounded in a sound so epitomising of pop-folk-punk, that it is almost undone by its own sparkling efficacy at having fulfilled the role.
During a break between songs, Frank tells us how his last album "was all woe is me" whereas the new one is much more "fuck you it'll take more than that to put me down", and there's definitely something underneath that is more primal. Underneath so many of the songs is a drive that echoes Dr. Feelgood and the lead guitar is regularly prominent, snaking fills around the vocals and often taking their right hand side. Add to this that there is a gradual heightening of pop-production sensibilities through the set (big ol' backing harmonies!) and that the last two tracks are highly personal accounts of tragedies, and this could look like Frank Turner trying to take another sharp step away from his protest-singer image; gorging on hedonism or closing his eyes and looking inwards both perhaps being methods of dealing with the innate contradictions in identity felt by many protest singers who have found fame. However, he doesn't seem to be able to help himself and idle comments such as 'go to your local fucking venues' are peppered between songs.
Frank started the second half of his set with just his guitar and voice and the rest ran basically as you would imagine. The music roared out of the speakers into its natural habitat, everyone sang to everything, and there was more energy in the last twenty minutes than a jack-in-the-box on crack (edit: Bearded has secured the rights to 'Crack-in-the-Box'). I'd list the highlights but it really all comes down to the sense of strength in unity Turner's music inspires.
Through highs and lows, that night we were in The Jailhouse and it wasn't closed and we sang about England. Frank Turner had provided an incredible two hour set full of love, and played the perfect protagonist for the setting. Finishing up, he gladly met fans and took photos before retiring to prepare for another sold out show the following night, at which he'll preach the same message. Of course, who knows if they'll listen but, all said, I still believe. There, I said it.