Fenster @ Birthdays, London 15.05.14
Swooning atmospherics and killer tunes make this NY/Berlin four-piece an irresistible proposition.
May 15th, 2014 at Birthdays, London / By
Ben Wood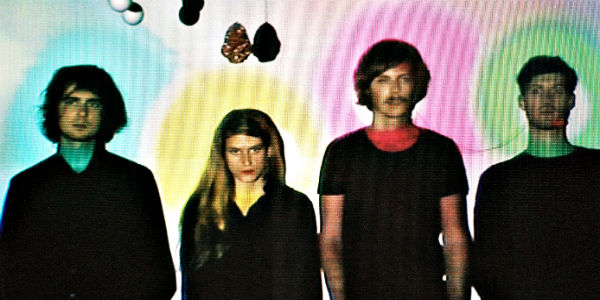 Spring has finally hit London. The sun is shining, people are drinking outside and there's a buzz in the air. But downstairs in the darkness of Birthdays' cellar bar, there is secret knowledge to be acquired... and it doesn't cost a penny. Yep, that's right. Thanks to the good folks at Bird on the Wire, this gig is entirely free. And what a gig it is.
Norwegian opening act
Sea Change
is lost in the moment, dancing to herself as she sings rapturously over crisply moody electro-pop. This is slow-burn, swooning music that gradually picks up pace as beats and crescendos inhabit the likes of 'Let's Dance'. One woman and her keyboard, lost in a reverie. Intriguing...
New York/Berlin dreampop band
Fenster
couldn't make an ugly sound if their lives depended on it. Currently touring their second album
The Pink Caves
, on record their world is a subtle, sensuous one - murmured vocals, simple echoing guitar lines and slothful tempos creating soulful slo-mo rhapsodies.
Live, these elements are all present and correct, but their sound is expanded to allow heavier moments and elements of improvisation. You wouldn't exactly say they rock out, but some songs gain an extra gear or two, compared to their recorded counterparts.
Eyes caked in glitter, transplanted New Yorker JJ Weihl is in sparkling form, excited to be in London. She shares vocal duties with Jonathan Jarzyna, the four-piece band deftly manoeuvring themselves around the fun-sized stage as they swap instruments.
This is 3am music, the linear logic of the daytime replaced by something more dreamlike, poetic and woozy. An air of darkness curls around the edge of these tunes, a
Twin Peaks
-esque spookiness, while the spaciousness and duetting voices sometimes recall The XX. At other times, there are hints of Sparklehorse, the Velvets and Spiritualized, while a Brill Building classicism underlies much of the songwriting.
The band are clearly having a ball, the live setting emphasising their gift for melody. They may often be langorous and atmospheric, but each tune has hooks to die for, and beautiful chord changes galore. The starry keyboard riff of 'In the Walls', for instance, lodges instantly in the brain, while desolate post-disco lament '1982' is impossibly lovely.
It's rare that small gigs like this feature encores, but the crowd demands two. In the end, JJ admits, they've run out of songs. Through the entire gig, not a note has been wasted - a masterclass in economy that has still sounded alluring and romantic. Most valuably, they have what so many dreampop bands lack - killer tunes.
Come on world, what are you waiting for? This lot deserve to be big...