False Advertising @ Phase One, Liverpool, 12.11.19
Manchester alt. rock outfit plug their recently released debut album Brainfreeze in incredible style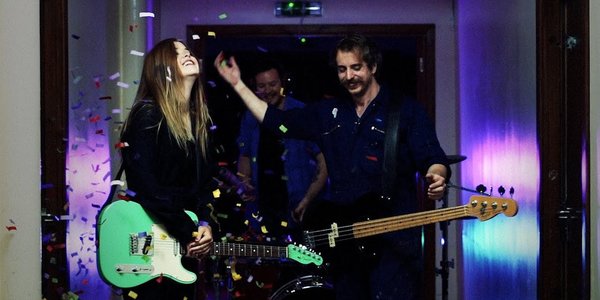 Showcasing their kinetic alt. rock energy and knack at crafting a contagion-level catchy chorus in splendid form on recently issued debut LP
Brainfreeze
False Advertising
call at live space / bar / record shop Phase One, Liverpool.
Deserving of a far bigger crowd than the reasonable turnout that faces them, the trio launch undaunted into a double hit from the new LP. You Said alternating between the full-pelt and restrained chug and the anthemic You Won't Feel Love led by Jen Hingley's brilliantly idiosyncratic guitar work make for a bracing opening stretch.
A band who have always impressed treading the boards, False Advertising's progress onstage shows no sign of slowing. While the guitars would benefit from being slightly louder (a regular bugbear with live mixes at venues recently), the sheer attack of the trio's playing makes up for it. Reaching into their back catalogue early single
Dozer
is pumped up to colossal proportions, landing somewhere between Black Sabbath and Black Flag, combining the gloomy guitar motifs of the former with the hurtling tempos of the latter.
Airing
Brainfreeze
in its entirety almost, the set underlines the strength of the tracklisting and the group's ability to rearrange tracks for the stage. Reading It Wrong, powered by acoustic guitar and Burn the Witch-style strings on disc is retooled for electric guitars, retaining the track's sidewinding tempo shifts. One of their finest moments to date Uncomfortable is a highlight, stripping down to just the vocal harmonies at the close, elsewhere as yet unrecorded fan favourite Need To Know, introduced as "one for hardcore fans", is a compelling piece of downbeat grunge rock.
With Jen and guitarist / singer / tubthumper Chris Warr swapping places at the mic stand and drum kit, We've Heard This All Before a resigned sigh at the political situation combines polemical lyrics with an earworm chorus, while At The Top contrasts Pavement's ramshackle rhythmic approach with Josh Sellers' sludgy basslines. Wrapping up proceedings, the lunging staccato refrain of Influenza and a riffhumungous take on Wasted Days, the sound of Seattle circa 1988 – 92 with a solid pop chorus soldered on top the brings the curtain down on a absolute banger of a set.
False Advertising UK Tour:

16th Nov, The Big Top, Cardiff
17th Nov, Crofter's Rights, Bristol
18th Nov, The Black Heart, London
19th Nov, The Prince Albert, Brighton
20th Nov, The Forum, Tunbridge Wells
Buy Tickets here