False Advertising @ The Jacaranda, Liverpool, 29.01.18
Mancunian alt. rock doyens on blistering form for Independent Venue Week 2018 in Liverpool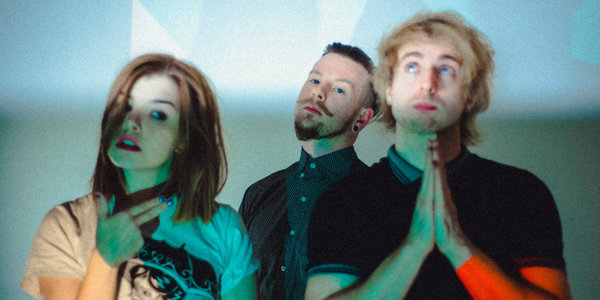 Jacaranda, a flowering plant, of pink/purple hue, or as the vast majority of people associate it however, a Liverpool venue made famous by a certain pop group of note. Part of the fifth Independent Venue Week, an event which in welcome fashion increases in profile each year, the venerable Slater Street institution owned by The Beatles' first manager Allan Williams plays host tonight.
Despite being a chilly late January, a sizeable crowd for assembles in the downstairs gig space for estimable, perma-touring DIY alt. rock practitioners
False Advertising
. Causing the floor in the street level bar upstairs to literally rumble beneath the patrons' feet, the three-piece expertly locate the sweet spot between storming indie rock and pop song structures. Launching into their set, the sound problems early doors are surmounted by the trio belligerently blasting through the material, powering along until the levels are set right.
Singer/drummer Jen Hingley, replete with a T-shirt of Noughties heavy rockers Reuben, wielding her Fender Tele is on animated form throughout, as sticksman/vocalist Chris Warr doles out pummeling beats between stints at the microphone. Recent single Hey You is delivered with pugnacious elan, while the sludgy bass riffs of Not My Fault sound like something escaped from the SubPop roster. Switching places to take the mic, Warr leads the unison drum/guitar riff of Give It Your Worst, which has matured into a juggernaut of such proportions it could give the Pixies pause for thought. Stripping the track down to its bare essentials before exploding into its unison-sung chorus, this along with the roaring chorus of Wasted Away provide the high point, perfectly balancing sulking grunge guitars with the upbeat melodicism of the vocals, bassist Josh Sellars keeping the whole thing ticking over in unshowy John Paul Jones/Bill Wyman type fashion.
The clutch of new tracks aired sound especially promising, the extensive road miles clocked honing the trio's stop-start, loud-quiet dynamics into sharper relief, 'This one had the working title of Ahhh' Jen states introducing an unreleased track. 'What's it called now?' Chris enquiries from behind the kit. 'Ahhh' the singer responds, shrugging. Whatever the eventual title might be, the cut proves highly impressive, a sequence of off-kilter guitar chords that bounces along in barnstorming fashion before a cathartic primal scream by the singer brings it to hair-raising conclusion. Further proof of how strong a live proposition the trio are and whetting the appetite for new material by the three piece, adding to the Reuben album title referenced earlier, Very Fast, Very Dangerous and Very Good sounds about right.