False Advertising @ Chester Live Rooms @ 20.10.17
Mancunian alt. rock mavens on excellent form live in Chester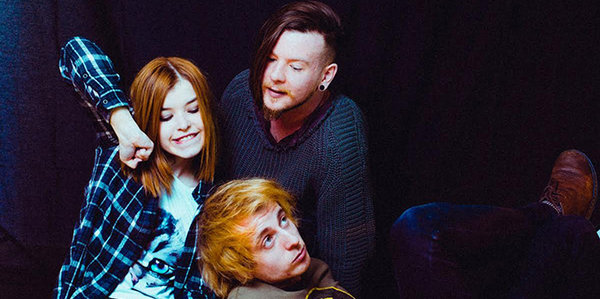 A group near-permanently on the road, estimable alt. rock types
False Advertising
rock up in the Victorian/Roman conurbation of Chester as part of their plan to possibly outdo Bob Dylan's Never Ending Tour. With the miles logged on the road going international, including recent stops in Austin, Texas for SXSW and Barcelona, their current fact-finding mission to discover which motorway service stations have the best all day breakfast across the UK continues apace.
An early doors airing of 'Scars' showcases the band's wherewithal with a hook, its chorus refrain of '
You Like Me/More than I like you/And I don't care who knows it
' one the group's best earworms. Impressive new 45 'Hey You', which extends the band's run of memorable videos calls the off-kilter guitar lines of US indie doyens Pavement to mind. Included on new release,
I Would Be So Much Happier If I Just Stopped Caring
, the five track set pulls together all of the cuts released by the trio this year. Issued on fetching glitter-covered cassette, the once dormant format continues its DIY renaissance from being the 1980/90s equivalent of the 8-track cartridge.
With co-lead singer/guitarist Jen Hingely's sonorous vox cutting through superbly, the guitar clamour bolstering her voice, the maelstrom brings out the best in the likes of 'Wasted Away' and a brilliantly slacker rock take on 'Sigh'. With Jen and Chris Warr switching places, placing the part-time sticksman on guitar and vox, a practice which partially inspired their band name (interview), Warr steps forward to deliver a bunch of grunge rock bangers. The Chris/Jen sung 'Give It Your Worst' is a highlight, flitting between the ennui laden numbness of the verses to the explosive choruses, a song that cries out for a decent-sized moshpit.
Now at the stage where their live renditions are virtually interchangeable with the studio-bound recordings, the hard yards have undoubtedly tightened up the trio's live sound. The changeovers with vocals/guitar/drums are seamlessly handled, soundtracked by bassist Josh Sellers' bass interludes, his four string work keeping things in check throughout. While everything here easily passes muster, the non-appearance of storming 2016 single 'Alopecia' is a slight grumble, yet the fact the fact the trio can leave these early landmarks out shows just well they're progressing.
Roughly forty minutes of excellent melodic grunge/alt. rock alchemy later and more converts to the cause newly recruited, it comes as no surprise that the tour van and the open road beckon again.
False Advertising tour:

Thurs 26 October - Hull - The New Adelphi Club
Fri 27 October - Liverpool – EBGB's
Sun 29th October - Stage And Radio, Manchester (Free Entry, acoustic set at 2.45pm)
Mon 30 October - Birmingham - Sunflower Lounge
Tickets are available
here