Elevant @ The Buyer's Club, Liverpool, 07.05.16
Liverpool based heavy psych trio conclude their tour in impressive tinnitus inducing form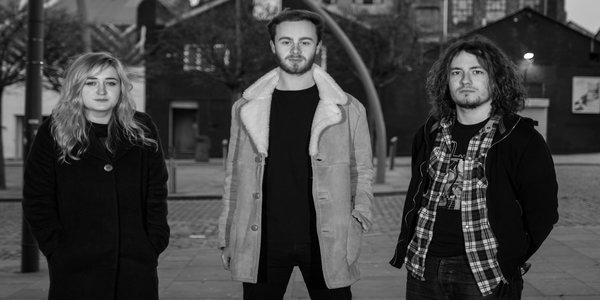 A gig space established on almost hallowed musical ground in Liverpool, the site of the former Flying Picket venue (where The La's earned much of their reputation), the less than 12 months old Buyer's Club have stepped into the venue's footprint admirably.
A band who have been recipients of recent acclaim in the conurbation, skewed indie pop trio
Bathymetry
create curious off-kilter folk tunes that alternate between straightforwardly melodic and mildly dissonant.
Cranking up the decibel levels somewhat
False Advertising
aim straight for the jugular dispensing a series of thrilling alt rock missives that race past with imposing force. Alternating between Jen Hingely and Chris Warr on lead vox/guitar duties with whoever isn't up front sat behind the kit, while some of the subtleties of recent EP
Brainless
are slightly lost in the mix, any shortcomings are made up with gritted teeth energy and by sheer dint of being really bloody
loud
. Recent single Alopecia, understandably aired last supplies the pinnacle, Warr's weirdly relaxed, brutally effectively sticksmanship reminiscent of Jackie Chan chopping minor league bad guys on his way to take on the big boss.
Following an excellent choice of between sets music, the soundtrack to Prince's concert film
Sign O' the Times
, acting as the backdrop to amp shifting, the Purple Prodigy's 1987 meisterwerk ushers headliners
Elevant
onto the stage. Possessing a trouser-flappingly loud low end, as the fondness for Minneapolis' most famous son indicates, the Liverpool based band's material suggests far more eclectic tastes than standard power trio fare.
Fans of the florid heavy psych of Smashing Pumpkins (a band who are recently receiving deserved belated praise), singer/guitarist Mike Edwards has the ability to flit between bone crunching riffs and atmospheric interludes. Fully inhabiting the frontman role Edwards writhes around the stage like a man possessed never missing a note, backed by the colossal thrum and thwack of the band's engine room, bassist Hannah Lodge and drummer Tom Shand.
While recent album
There Is A Tide
understandably supplies a large portion of the set, with another two LPs in their back catalogue to scan, the three piece have enough material to easily fill out an hour-plus set. An extended thrash through Audience provides the highlight, switching from reflective verses to all-out apocalypse while I'm Only Falling Apart, its cleverly constructed dynamics holding back until the chorus kicks in is a close second. With a work rate suggesting a group that can't stand still, literally and metaphorically, the restlessness live and in the studio clearly suits Elevant.