Dungen @ Bar Academy, Islington 16.11.10
Tonight's gig was enough to give musos a good name – with more chops on display than a butcher's shop window. Opener Jim Molyneux is a virtuoso accordionist with a decent voice on him; while Wolf People's heavy yet swinging take on folk-rock, like Fairport Convention meets Cream, went down a storm.
Nov 16th, 2010 at Bar Academy, Islington / By
Ben Wood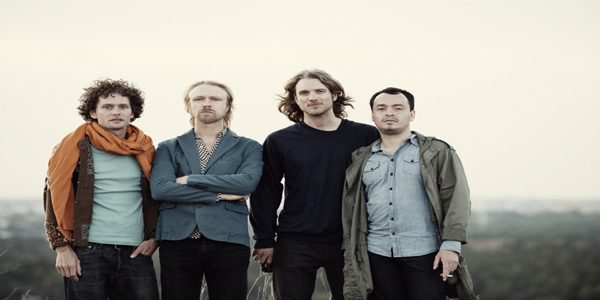 But most people were here for Swedish maestros
Dungen
. Their earlier material was of a more psychedelic bent, with long, trippy jams sitting alongside creamy harmonies and tunes inspired by Swedish folk music.
However, on the band's recent seventh album,
Skit I allt
, bandleader Gustav Ejstes has swapped his guitar for a piano, which is placed at the front of the stage. Lanky and wildly enthusiastic, he spends half the time sitting and playing; and the other half standing up, either singing, playing the flute or rocking out, bashing his tambourine and generally having a whale of a time.
The band's new sound is propelled by flailing 300mph drumming, but these are no lumpen rock-outs. The tunes, which stretch out to some pretty serious lengths, are kept liquidly, limpidly melodic by Ejstes' rippling piano and some Santana-esque jazzy guitar.
Progheads of a certain age nod in approval as the band manages to play several different time signatures at once, yet combine perfectly together. There's either ESP going on here, or one hell of a lot of rehearsal… or maybe both.
Often, bands with proggy and jazzy tendencies get so carried away with their own proficiency that they forget to write any bleedin' tunes and turn out an unlistenable dog's dinner (hello, Mars Volta!) But the band has hit upon a very musical, melodic sound - even when they are zipping along at the speed of light.
The lyrics are entirely in Swedish, so God knows what Ejstes is singing about. But who cares when they seem to be inventing new musical genres every other song: jazzgaze, anyone? (that one's a lot nicer than it sounds…)
They even get away with a flute and bongo interlude: this is a very modern psychedelia with any offputting hippy trimmings replaced with bucketloads of energy and glee.
Stylistically promiscuous, Dungen are a tricky band to label – except to say, whatever they play, they play it bloody well and have a great time doing it.
Dungen are reinventing the jam band as a very good idea indeed.