Dinosaur Jr @ Stylus, Leeds 31.01.13
Right, let's get the first obvious statement out of the way. 'Stylus' in Leeds University Union is dire. If anyone is listening, do not play there. They might put on a few good bands a year but it tends to be more famous for 'Fruity Fridays' and other vomit-laden, fresher-frequented nights. Dinosaur Jr. were to have a few tricks up their sleeves tonight, but the tiled flooring and voyeuristic balconies do tend to set an anticipatory backdrop for a cash-in. Anyway, with hands over eyes and a pinched nose, Bearded hauled its frame to the front to try and catch the diamond from the rough.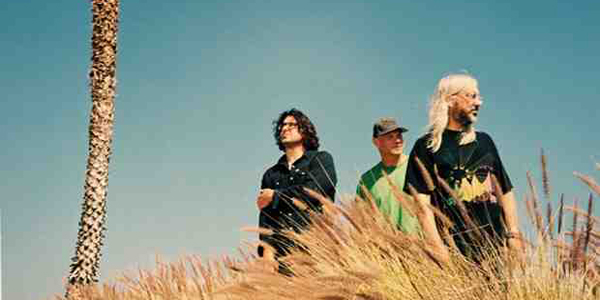 Promoting their new album
I Bet On Sky
, a polished and unmistaken product,
Dinosaur Jr.
were all ready to retain their reputation. Throughout, the actors played their characters - J Mascis, an effortless, towering statue, awkwardly contrasting with Lou Barlow who throws himself around with all the vigour of youth. This was a really perfected sound and the power they can get out of the three-piece format is overwhelming. Mascis' guitar solos are, beneath the grit of the distortion necessary for the punch, lush and consistently referential to the classic rock guitarists that pre-dated him. Barlow's bass is usually just an empty playground for Mascis but, when allowed, he grinds up the concrete and throws it right back at his partner. Oh and occasionally the vocals were inaudible (cheers Stylus).
As pleasantly gratuitous as this may be, it's really hard to get past the inherent problem in all this polishing. It has often been said that the great piece of art should ask more questions than it sets out to answer. Dinosaur Jr. landed on their answer a long time ago and have since spent their time filling in those awkward spaces on their test sheet. It's funny to remember at this point Mascis admitting in an interview last year that the band has not had a goal since 1987. Having largely muted Barlow, old man beard has clearly long been the centre-piece. Whether this is good or not, it is an undeniable side-effect of the style they have been increasingly falling into in which the lead guitar always wins. Either way, blunt solutions have been found and questions seem to finally need no more asking.
This streamlined approach only exacerbates the palpable tension between Mascis and Barlow and highlights really came when the latter took the microphone. In particular, there was a shocking awakening when Barlow announced 'Training Ground', a song the pair had played in their first band Deep Wound. A less-than-two minute thrash with no guitarsturbation altered the lay of the land so much that it was near impossible to believe it was the same band, as we were sweetly reminded of less self-assured times when beautiful youth was compelled to make mistakes.
At the end of the night, we had seen two acts - one grungy, crazy horse, present under popular vote and the other an individual deranged by his drowning. Both fairly respectable in their own right, there's still the question of why on earth they stick together. Age, money and security would all be good guesses.