Dead Naked Hippies @ The Jacaranda, Liverpool, 20.10.19
Leeds post punks continue their ascent with an impressive Liverpool outing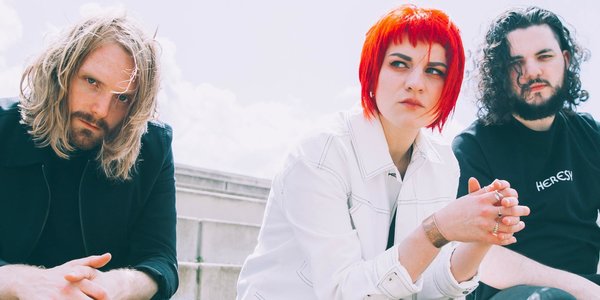 Given that the vast majority of people out in town are celebrating LFC increasing their Premiership lead, there's a surprisingly healthy crowd in the below ground live space of The Jacaranda.
With one of the most memorable band names in recent years (in typical music journalism fashion, what exactly
is
the provenance of it?) Leeds post-punks
Dead Naked Hippies
return to the city.
Lights Out opens the set, with frontwoman Lucy Jowett is in near constant motion around the stage from the outset. Even up against a muddy sound mix that doesn't do justice to her exceptional vocals, her voice cuts through the riffage, several times venturing from the low stage to weave between the front rows of the audience and support band Elevant.
One of the key elements of the trio's sound, the swift pedal work of axe man Joe Clarke is in clear focus. Utilizing guitar and bass amps, every time he brings his foot down on the stomp box, the dual set up sees the songs exponentially increase in power. New single Eyes Wide, a song that reveals over several listens to be as melodic as any pop song on the charts at present takes on even bigger proportions live, the staccato guitar chords of the verses exploding into a swaggering chorus.
Looking to add to their impressive stockpile of singles, a fresh contender emerges with an untitled new song sounds not unpleasantly like a toughened-up version of Elastica (or Wire, depends on who you ask) punctuated with PJ Harvey style yelps. Elsewhere tubthumper Jacob Marston's stop-start drum pattern and the serpentine guitar figure of excellent previous single Rare locates a granite hard Death Disco style groove.
Showcasing their dynamism, Guillotine is a brilliant mixture of sheet metal Gang of Four / PiL guitar surges, that leads into a low-key coda where the volume gently ebbs fades away into a Sonic Youth-esque arpeggio.
Concluding a short, sharp set despite the chorus hook of set closer Curiosity being "
I can't get into it / I can't get into it
", audiences clearly feel differently as the 'Hippies continue to recruit more followers to their commune.