Darwin Deez @ KoKo, London 03.03.11
The Koko No Re-entry 'Policy' becomes somewhat of a burden, as our beard is almost shaken completely off by over-zealous subwoofer levels, courtesy of main support Totally Enormous Extinct Dinosaurs. After a few tunes, the cold outside balcony keeps Bearded...well... fucking cold... as we await the man of the night.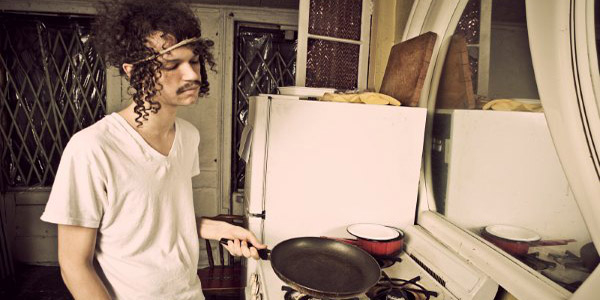 May it be suggested that the bass levels found in the set of
Totally Enormous Extinct Dinosaurs
would provide more of a practical service in building demolition, rather than a musical one. We would love to supply you with an insightful and canny critique of Totally Enormous… however it was nigh-on impossible to waft our way through the woofer noise to get where the actual music resides. On a brighter note, two girls pranced and quirkily-danced their way across the stage, dispensing to the crowd what (perhaps worryingly) looked not too dissimilar from your average household toilet roll. After a couple of songs, the sub woofer became a tad too much for this timid reviewer, and retiring to the back bar seemed to be the most attractive option (£4.30 a CAN?!). Several toilet rolls later, the dancing girls skip their way merrily off the stage, as the indigenous-robe-clad DJ follows. I'm sure it was probably good.
The crowd begins to chant "Darwin!" and clap with a quivering enthusiasm while the collection of teens at the front can barely contain themselves as the lights go down and the intermission music fades. Ten minutes later and still no sign, the kindly soundman takes the liberty of pumping the music back out, as the vague whiff of 'technical glitches' fills the air with a few awkward speaker pops -reminiscent of when you forget to turn the volume down before plugging in your iPhonePodPad. The crowd remains faithfully to chant his name.
Eventually, out pops
Darwin Deez
all hands a-clappin' and smiles a-smilin', accompanied by his 3-piece band of appropriately dressed hipsters. They start up a tight set, as Deez sways from side to side with an air of calm indifference, leading the way into a performance of the entire self-titled debut album. They begin with the melodically delicious 'Up In The Clouds'.
A positive and unassuming energy fills the stage as Deez and his sparkling soft guitar tones are lapped up by hoards of adoring teens. The nihilistic lament 'Consolations' comes across brilliantly and perhaps adds to the ridiculous displays of interpretive dance that intersperse the set. You get the sense that this isn't him being all hipster-y - with their pseudo-ironic explanations for anything vaguely interpretable. It's just stuff. Happening. After all, in the grand scale of time/space/our magnificent universe, it all means about as much as a monkey wearing a suit smoking a cigar. So why the fuck not get up and show people your carefully choreographed dances involving your mates with average-to-poor dance skills? Why the hell not?
Deez undeniably has worked on creating his own gentle, simple sound – but this can, at times, work against him when things get pretty dull in the monotonous 'Deep Sea Divers'. It's a sensitively written and introspective lyric, charmingly detailing the more minute things in life with "You and I are deep sea divers on a task, little bubbles rising from your scuba mask". However, it's unfortunately guised in a fairly unoriginal musical mask. Throw in a subwoofer?
We were treated to a 90's-tastic rap half way through the set that visibly confused the hell out of just about everyone but his band - who couldn't really do much else other than stand and nod their heads in mock-hip-hop fashion during the flamboyant display. Still…monkey in a suit smoking a cigar, right?
OK Yes yes yes…we know he sounds like the Strokes. And indeed you're right; his music sure isn't evolving much. But it packs a pop punch that satisfies your musical taste buds and puts a sort-of smiley squint on your face. The substance here is found in his lyrics – which stand up in their own right as engaging, pretty muses, tackling the heady heights of all sorts of cosmological/emotional stuff.