Cults @ XOYO, London 15.11.11
The stage at sold-out Shoreditch "media hub" XOYO is a pretty small one, but it's not a state of affairs that Cults should suffer for long.
Nov 15th, 2011 at XOYO, London / By
Ben Wood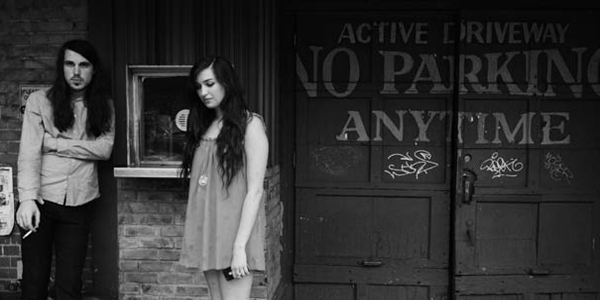 The boy/girl duo set the blogosphere panting when they first came onto the scene last year, ticking pretty much every box going. A foxy singer (Madeline Follin); a dude with a supercool pseudonym (Brian Oblivion); and an updated 60s aesthetic referencing girl groups and Twin Peaks-style spookiness… the ingredients for genuine, crossover chart success were all present and correct.
Add a serious knack for melody, and you have an act using classic pop tropes with love and understanding, like a post-millennial Blondie. Cults finally signed to In the Name Of, and their debut came out this summer. They haven't set the world alight just yet, but give them time.
Cults'
touring line-up sees Madeline and Brian joined by a lanky, longhaired drummer and keyboard player, whose occasional vocals contribute to some very pleasing duet action. The noise the four make is hooky and accomplished - and while they're not going to win any medals for originality, these are tunes you can imagine people swaying arms and holding up lighters to.
Madeline's vocals alternate between breathy girl-group cooing, and caught-in-a-wind tunnel Grace Slick-on-steroids bellow. The latter could strip paint at fifty yards, and can seem a bit OTT in this relatively dinky venue. We're right here, Madeline, no need to shout!
The band has definitely read the Big Book of Classic Chord Changes, but they have a secret weapon that raises them from the realms of accomplished pastiche… the xylophone. Really. Around half their songs have a fiendishly simple but uber-catchy twinkly xylophone hook, and it works every time.
The Ronettes-meets-David Lynch atmospherics of 'You Know What I Mean' are a stand-out; 'slow jam' 'Most Wanted' has Madeline urging us to get snogging; while a Motown-y groove inspires dancing… well, swaying at least.
'Come Outside' is the band's one stellar moment so far, an insanely catchy number built for mass singalongs. A rocky "tribute to European dance culture", 'Rave On' is the show's one naff moment, as the band lets its tastefully cool mask slip.
Cults have so much poise, and so many hooks, that it's amazing to think they only formed last year. They seem destined for bigger things. And, if on occasion they seem to have been designed by committee, it's a committee with excellent taste.