Clutch @ KoKo, London 21.01.13
It's the night of Monday, 21st of January, 2013. Bearded is at Koko's in Camden town to witness one of the hardest working rock bands of the last 20 years, Clutch, display exactly why there are still relevant to any fan of the age old four headed combination consisting guitar, bass, drums, vocals as they kick off their first (and only UK) date of a four month long tour in support of tenth album 'Earth Rocker'.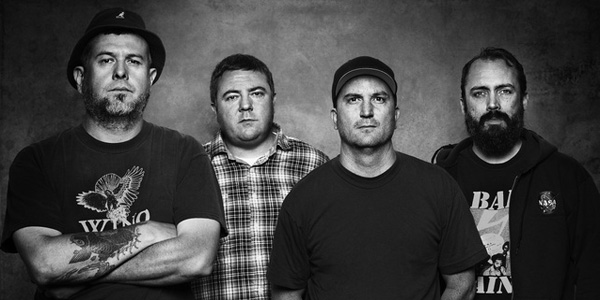 Upgraded from the O2 Islington Academy due to demand, it's hardly surprising that
Clutch's
only UK date on the European leg of this tour sold out weeks ago. A band much lauded for trend ignoring style authenticity and great lovers of the improvised jam, the addition of one support band Hark may suggest that Clutch fans could be in store for an album spanning set.
Being the only support act seems to afford three piece
Hark
the opportunity to start their performance at that slightly later from doors opening time slot that guarantees a few more feet on the floor come opening riff, and it's a big riff that demands attention. Which is a followed by a lot more riffs, big meaty half-pace
Leviathan
-era Mastodon style riffs which nod heavily in the direction of the likes The Melvins and Fu Manchu, but perhaps not so many songs? Wading through such thick sludge laden tones may not lend itself to the most frantic style of drumming, but there seems to be a distinct lack of urgency coming from the percussion section. The doubled up snare and kick drum combination turned up to what feels like it must be the maximum amount of decibels not only causes a disconnect between the eyes and ears but suggests the sound engineer is attempting to fill all corners of a stadium. As opposed to an old Grade II listed London theatre building with a maximum capacity just shy of 1,500 pairs of ears. Fans of Sleep through the aforementioned Melvins and Fu Manchu through to Kylesa will no doubt enjoy Hark but may be left yearning for a lead guitarist to come add the finishing layer to an already solid sound.
Clutch
arrive on stage against a backdrop print of the impressive Earth Rocker artwork, returning grateful applause with cheerful waves akin to the salt of the Earth characters that they are, no time is wasted and no bells or whistles are required. They pull the pin on this set with opener 'Pure Rock Fury', could the title of the song be more appropriate? Probably not. Out of the three members standing on two feet, Tim Sult and Dan Maines play with an understated precision (not to forget Tim is anchored by that wah pedal) leaving Neil Fallon to roam the stage as Clutch's front man in the truest sense of the word. Any fears that this evening would be a showcase for as yet un-heard material are allayed as Clutch roar through '50,000 Unstoppable Watts'. Fallon addressing the crowd, unravelling Cajun laced poetry like some kind of rugged thespian. It's perhaps a touch too spicy for security as some of the audience and punters are individually ejected from front of stage. Particularly strange as surely this is not the most raucous of audiences Koko's has ever seen? A Clutch crowd contains many a rock connoisseur, far more likely to nod a head rapidly rather than mosh rowdily. The first half of the set is closed with the first offering of new material, 'Earth Rocker'. The song injects pace and is received well, but the lack of familiarity does calm the most energetic pressed up against the stage barrier.
From 2013, to 2005 and back again as 'Earth Rocker' is followed by 'Gravel Road' and another slab of the unknown in the form 'Crucial Velocity'. However the best is most definitely yet to come after a moment to compose themselves, Clutch embark on an improvised journey through 'Profits of Doom'. Jean-Paul Gaster's rhythm section rolls into an extended drum solo which is nothing less than an absolute joy to behold. These few instrumental minutes showcase a seamless fusion of hard rock, metal and funk. It's not often that a drummer steals the show at a rock concert, but this is a master at work here. Instrumental interlude over, it's time to serve up the fan favourites. Travelling right back through the discography and back again as 'The Mob Goes Wild' transitions into 'A Shogun Named Marcus' and 'Space Grass', followed up the final new one 'The Wolfman Kindly Requests'. Is it surprising that Clutch bow out to the big beat of blues soaked 'Electric Worry'? Of course it isn't, but it's still bloody brilliant.
A performance by performers whose sheer conviction has crafted a timeless amalgamation of rock, blues, funk and soul, this set littered with reminders of the bands origins suggests there is one eye set firmly on the post record release tour. Like a greatest hits album with a few new numbers on the list. Suspicions are confirmed mid-set as Fallon announces they plan to visit 'every corner of this Island'. Based on tonight, that's certainly something to look forward to.