Clifford Village Band @ Carpe Diem, Leeds 26.02.2011
Turning up to this gig, the only prior experience Bearded had of Clifford Village Band was an anonymous source who claimed they played 'sort of pop-folk' and that 'they used to be folkier but now play more poppy stuff'. Obviously the lack of eloquence made us form some pretty brash assumptions that we might be in for yet another cheap Mumford bootleg, but these young, fun-loving students put on such a great show that all preconceptions had to be swept quickly aside.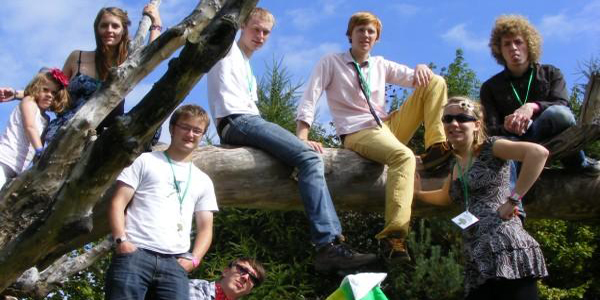 Starting with the instantly loveable camp-a-thon 'Attica' was perhaps a little sickly but this was cured by the beaming smiles that shone from the lead singers as they alternated lines and harmonised. The whole song was not unlike the rom-com you pretend to hate. After this each of the singers took a turn to shine individually with Sam Murray crooning his way through 'The Darkness in the Corner of Your Eye' and Steffi Bontoft taking centre-stage in the funky and ultra-cool 'Merry-Go-Round' – a song in which guitarist Matthew 'Mafro' Archer first caught our ears with some well-placed soulful licks.
For the next couple of songs, the band worked through the more folk-based end of the scale before Murray announced that 'the slow part was over' and that we should all commence the dancing. And people danced. It was quite an impressive feat when the guys dove headfirst into the upbeat 'Heels of a Thursday' and a large proportion of the crowd started boogying on down. One member of the audience got so carried away he seized a microphone and shouted something incomprehensible at an apparent group of mates. Yes it was an energetic atmosphere when Sam Murray reached peak exuberance and ordered us to remember 'most importantly – hold onto love' in the finisher 'Explosion of Happiness'.
All in all, this was a highly refreshing gig. The musicians were laidback, exchanged warm smiles throughout and appreciated the audience enjoyment (and participation) fully. To see a talented and tight band with no pretensions enjoy themselves on stage seems to be very rare in the current music scene but this is what Clifford Village Band are offering with no strings attached.