Childhood @ Leaf Cafe, Liverpool 25.04.14
Shoegazing/pop quartet prepare the ground for their debut LP in considerable style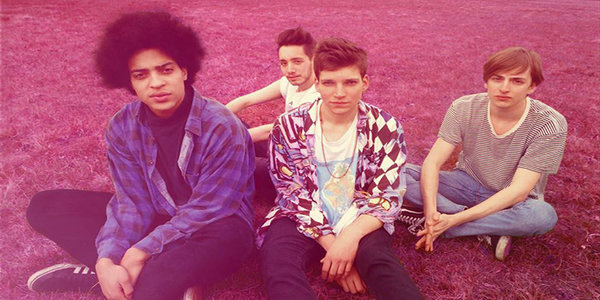 Despite only being a year or so since their formation, diviners of slacker pop noise
Hooton Tennis Club
prove impressive from the moment their guitars are fired up.
Borrowing their moniker from a lawn tennis association in the Liverpool-facing Wirral peninsula, the preponderance of plaid shirts onstage and in the audience gives a clear indication of the era the four-piece draw from, a time when eating cereal from the box sat in front of MTV was a widespread lifestyle choice.
Their song titles and lyrics all largely revolving around the subject of girls, single 'Kathleen Sat On the Arm of Her Favourite Chair' aired late in the set provides the standout, affably shambling along like early 1990s era Lemonheads. The recent success of excellent Aussie indie crew Scott & Charlene's Wedding may proves fortuitous as the HTC follow comfortably in their wake.
Cranking up the intensity several thousand degrees
Moats
step onstage to possibly the biggest crowd of the evening. Cramming early Foals-like math-rock and sidewinding tempo shifts into scalpel sharp blasts of melodic fury, the quartet sure-footedly manoeuvre their way through the set in consummate fashion.
Despite the absence of out-and-out bludgeoning heaviosity, the quartet give the distinct impression they could flay the skin off most metal bands in an ultavolume battle to the death.
'Gas' matching keening Buckley-esque falsetto with sulking minor chords and the sinisterly twisting guitar lines of 'Snakepit' are exacting exercises in proving intensity and melody needn't be mutually exclusive.
Operating at the more immediate end of the fuzzy psych-pop spectrum,
Childhood
deliver a series of swooning melody-drenched cuts MBV might have created if they'd been holed up in the rehearsal room with nothing but mid sixties pop compilations for several months.
Any band brave enough to title a song 'Blue Velvet' (possibly their best know track to date) better possess sufficient cojones to carry it off and so it goes here as the quartet glide through a set of sparkling bubblegum shoegaze (there's a sub-genre for you).
Their live sound bolstered by keyboards, the spidery guitar lines are delivered with sufficient edge to keep things compellingly spiky, led by the sighing vocals of lead singer Ben Romans-Hopcraft.
The insistent riffs and refracted vocals of 'Bond Girls' along with the swirling Motown stomp of 'Solemn Skies' represents the highpoints, the entire affair boding well for their imminent debut LP, setting the scene for its summer appearance in no small amount of style.