Childcare: Studio 2, Liverpool @ 20.11.17
Indie pop done properly, the London quartet visit Liverpool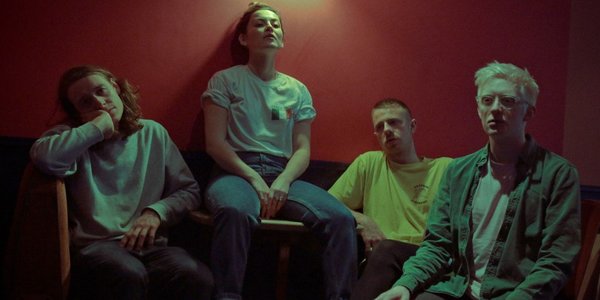 With the Class of 2017 currently working their way around the gig circuit, a band who have been in gestation for slightly longer, London based quartet
Childcare
are vastly superior compared to the current crop of flimsy garage rock crews and trust-fund punks.
Indie pop done properly, the four-piece are led by Ed Cares (Ian Dudfield to the HMRC, Cares is his alter-ego) formerly of London folk rock notables To Kill A King. As evidenced by their superlative EP
Made Simple
issued in May, the current band possess the highly unusual and very welcome ability in the present era to write genuinely witty lyrics. Their finest moment to date, Getting Over You (By Dressing Up Like You) sets out their stall in excellent fashion, with a lyric reminiscent of
His N' Hers/Different Class
-era Pulp that easily lives up to its title. The tale of spurned lover who recovers from heartbreak by wearing their former other half's clothes, '
To help me get through the hurt/I get dressed up in your finest skirt
', the
video
underlines their off-kilter humour.
A light-hearted take on being incinerated by global warming/nuclear explosion Dust avoids being a
Threads
-style Doomsday treatise, more a shrugging, 'Ah well' assessment of the current state of the planet, powered by an African highlife style guitar lines and the band's deft take on three-part harmonies.
While Rich Legate's axe work unfortunately isn't quite loud enough due to a ropey PA mix, his wherewithal at twisting Graham Coxon-style axe lines is apparent. The rhythm section of bassist/singer Emma Topolski and Glyn Daniels push the tracks forward in forthright fashion, the four-stringer coming to fore vocally with the underlying vocal melody of Kiss? and the brilliant Film Club '
No I don't go to watch those horror clips/And I don't go to read those Wilder scripts
' (Billy? Gene? Either's good).
The New Wave/power pop chug of debut single Omega Grey is contrasted with new 45 Put Down Your Pen, introduced as 'this should be getting its premiere on Radio One sometime in the next hour'. Showcasing a broadening of their sound, the track held together by a descending bassline and slow shuffling rhythm, details the fall out between estranged penfriends, something you could well imagine The Smiths having a lyric sheet dedicated to.
And returning to the subject of 2017's graduates, with the year virtually done with, a debut LP and deservedly bigger venues to go along with it for 2018 is surely (hopefully) in the offing for the present group.