Cheatahs @ EVAC, Liverpool 19th Feb
London-based shoegazers dazzle the East Village Arts Club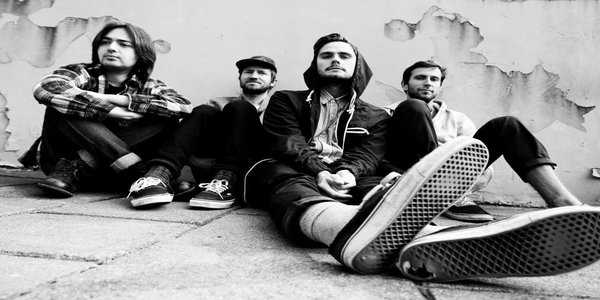 Taking to the stage under glowing orange lights and billowing smoke,
Cheatahs
fire up their armoury of FX pedals and power into their set, scarcely stopping until the dying notes have rung out. Plotting a steady ascent, the capital based shoegazers' progression continues apace, with the critical plaudits for their storming debut LP piling up nicely.
As the promise exuded by their early EPs indicated, alongside drawing inspiration from classic US alt rock the quartet have seemingly ingested the entire catalogue of the Creation Records roster circa 1991-93 in one helping. As they prove in redoubtable fashion onstage and on record, the band steer well clear of mere hero-worship and swerve neatly around producing inky photocopies of the originals. Where the quartet really score is their capacity to absorb the influence of Slowdive, Ride, Dinosaur Jr et al and effortlessly solder their own high-octane pop songs on to the framework.
The jousting double pronged axe attack, just-out-of-reach vocals and muddy, guttural basslines come together beautifully on 'Cut the Grass' alternating between upbeat and fuzzed-out malevolence while new 45 'Get Tight' ramps up the feedback squall for extra effect. The hypnotic rush of 'Geographic' and the gliding 'Fall' nudges the set into more expansive territory while 'Kenworth' led by gale force axe work showcases their ability to keep the tunes in focus no matter how heavy the guitar blitzkriegs get. Where the distortion and feedback in lesser hands might be utilised to fill in the gaps where the songs should be, with the present band the approach is part and parcel of their inherent melodicism, an average song containing more concentrated pop elixir than a whole heap of other groups.
Concluding with album bijou 'The Swan', deliriously sweeping downhill like a division of Winter Olympic Skeleton riders, the fridge magnet poetry approach to describing them as the current leading lights of grunge-gaze-nu-psych-alt-rock can be dispensed with, by instead stating that the group are one of the premier exponents of what used to be called indie out there presently. And what's more they create the hugely welcome impression that there is vastly more to come.