Chains of Love / Post War Glamour Girls @ Hoxton Bar and Kitchen, London 26.09.12
Headliners Chains of Love promised much with their sassy take on '60s soul. But they were upstaged by openers Post War Glamour Girls
Sep 26th, 2012 at Hoxton Bar and Kitchen, London / By
Ben Wood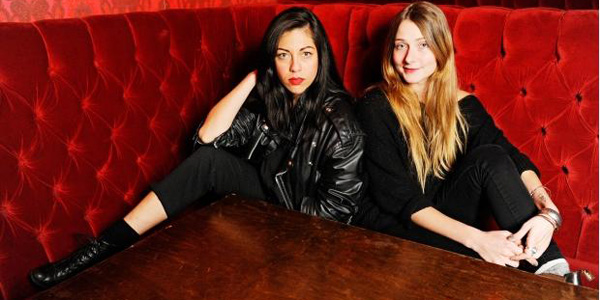 This intriguing bill offered three bands for under a tenner – and the most original and entertaining were the first to take the stage. Leeds four-piece
Post War Glamour Girls
are named after a John Cooper Clarke song, and like the big-haired bard himself, they have a definite way with words.
They brought a healthy number of fans, drawing the biggest crowd of the night, and manage to win over us neutrals as well as their mates. The band mix up an unusual stew of influences into a literate, ballsy and original take on art rock - thrillingly brooding and gnarly, with intervals of hushed, lovely, XX-style atmospherics.
Vocally, singer/guitarist J Smith comes on like a post-punk Jim Morrison at times, his wordily witty lyrics riding a sea of intriguing tempo changes. There's a lot of light and shade, as a quiet/loud dynamic is explored to the full - aided by the contributions of bassist Alice, who duets with the singer on some songs.
It's nice to see a band clearly having fun on stage, and after a tight but visceral set the band rock out like bastards for their finale. Point proved. The band later post: "Last night was ace." The feeling's mutual, Girls…
After the opening high, krautrockers
Colours
provide the comedown. They kick off with a tight, motorik groove, perfect for that "driving down the autobahn with a head full of drugs" vibe. But the crowd has emptied out, and a combination of lacklustre singing, zero stage presence and botched song endings make the set feel more like a rehearsal.
On record,
Chains of Love
are a great concept, with a garagey take on that classic 60s girl group vibe channelled so well on early Blondie records. And sure enough, the band is supertight, with organ flourishes decorating tight, insistent grooves. Unfortunately, the vocals of the band's glammed-up frontwoman are too far back in the mix, and the songs suffer from a lack of variety.
One tune merges into another at breakneck speed, with little to tell them apart. When one song slows down for a few seconds it's a blessed relief – but then we're off again, with wind-tunnel vocals and indecipherable lyrics. While the drummer is great, he's so high in the mix that his playing dominates the sound to a ridiculous degree.
It's frustrating, as there are clearly some hooky songs here; the band is tight; and they are referencing some classic stuff. But it comes across like bloodless pastiche, with a lack of dynamics causing interest levels to flag.
Chains of Love are ploughing a very narrow furrow. But Post War Glamour Girls are well worth keeping an eye on.