Casiotone for the Painfully Alone @ The Cube, Bristol 04.11.10
Entering the velour-furnished, lovingly traditional Cube cinema on the west side of Bristol's Kings Square, you couldn't help but make assumptions about their post-rock, art house clientele. It seemed every fifth person had come in their Victorian street urchin garb as if it were some form of dress code. The aura of the place positively screamed sad, lonely yuppie – and yet it pulled you into its clutches unable to resist the intrigue. As we all sat on our raised amphitheatre seating in front of the theatre stage, it became clear this was either going to be highly embarrassing or bloody brilliant.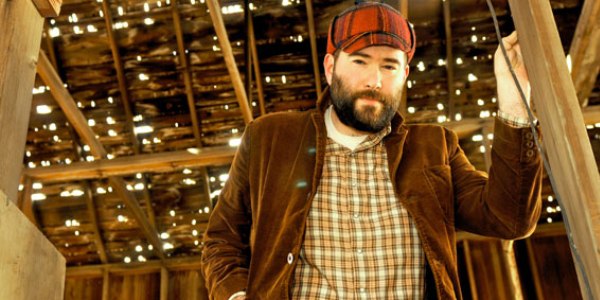 Within minutes of first band
I Know I Have No Collar
kicking off proceedings, they had apologised to us at least three times. A rollicking ride of rolling drum beats, floaty clarinet, raw chiming xylophone and the inspired two-birds-one-stone idea of using a maraca as a drumstick, the Bristol natives entertained, but not without making – admittedly quite obvious – a whole barrage of errors (their maraca even broke mid-set). However, they committed their fouls with such charm that they had the crowd laughing along. Not only that, but they convinced us to join in at times. Like a group of hilarious court jesters, I Know I Have No Collar would look right at home performing on the street outside Bath Abbey or on the Edinburgh Royal Mile. This kind of involving performance is exactly what The Cube lends itself perfectly to: allowing grand, acoustic atmosphere while keeping the imperative intimacy of a gig.
Second act
Robert Stillman
came across just as charmingly but with a generous smattering of awkwardness and artistic bewilderment. A one-man band, Stillman set himself up with a keyboard up front, bass drum on one foot pedal, snare on the other and a tambourine wrapped around his right ankle. Coming out with Phantom-like operatics one moment and delightful circus fanfare the next, Stillman's antics reflect less the stereotypical one-man band, instead relating more as a soundtrack to a silent, sinister, manga, detective, gamer film. Nevertheless, it was sometimes hard to focus away from Stillman's awkwardness on stage. Although performing stunning pieces of eclecticism, when Stillman stopped and silence hit the room, the quiet was almost unbearable.
Owen Ashworth
came on stage to a rousing burst of applause. Incredibly humble, Ashworth proceeded to thank the bands and capacity audience that flocked to see him as if he were genuinely surprised they all came. It was the Bristol leg of his final tour as
Casiotone for the Painfully Alone
and still the gig was as much everyone else's as it was his. The room promptly fell into silent anticipation and the man began his set of electro, folk-fuelled, swirling, afrobeat ambience.
As true as The Cube's cinema programme stated, Ashworth's Casiotone performance had the ability to both warm hearts and break them single-handedly. He rifled through old classics ('Killers',' Old Panda Days', et al.) cherished numbers and favoured covers (ending lovingly on Bruce Springsteen's 'Philadelphia'), accepting requests from all angles. Almost every lonely, gracing track was accompanied by a tangled web of back story or charming pre-amble.
It was jazz. It was hip-hop. It was folk, pop, church organ and disco. It was child's play. Ashford has the uncanny ability of being able to mix more genres than the everyman has seen in a lifetime, running eight or more samples at different times amidst a seemingly-confused myriad of wires – and he does it all without breaking a sweat. That's what so mesmerizing about Owen Ashford; he can think hyper-actively and yet appear utterly calm.
If there's any gripe to be had at all, it's that some of Ashford's Casiotone songs just aren't long enough. In the live environment, people are waiting to be entertained and brought to a wild, rushing climax, so a sudden ending – like Ashford is prone to doing – effectively pulls the rug out from under you. All the same, it's a small complaint from an otherwise barnstorming show. For every one disappointing short-stopper, Ashford had five more that would make you halt in your tracks and wet yourself in swirly, psychedelic glee.
During an impromptu question session between Ashford and his audience, one member asked why he was stopping Casiotone. Ashford simply replied that he wrote a lot of his Casiotone work a long while ago and, understandably, he no longer related to feelings and emotions he felt back then. As he went into another glorious melody, you couldn't help but focus your gaze on Ashford, calling his bluff to see if he really didn't identify with the songs he was playing anymore. The shiny, gold wedding band around his ring finger was a good indicator. Perhaps the man behind Casiotone no longer felt so painfully alone anymore.
Ashford announced that he plans to come back soon under a different moniker and with new material, which he's excited about, and so this ending tour never really felt like goodbye – more a final, fond farewell to sad adolescence. As Ashford played the final bittersweet melodies to mark the end of his set, the room seemed to stop still. Eyes steadily focused. Mouths fell open and, just for a moment, a whole cinema full of people's hearts smiled and wept simultaneously.
Casiotone For The Painfully Alone Links