Brother & Bones @ Wilmington Arms, London 21.07.11
After appearances at The Great Escape and Hop Farm plus main stage performances at Beach Break Live and Relentless Board Masters, south-western descended acoustic-led five piece Brother & Bones took some time off from the summer festival circuit to play a small pub gig in Clerkenwell.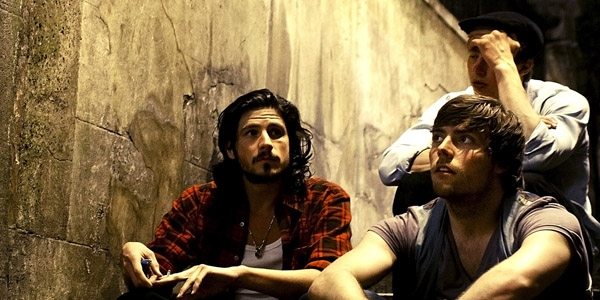 Tonight Ravenous Promotions monthly evening at The Wilmington Arms, 'Death & Glory' is celebrating its first birthday, early comers are treated to a cupcake upon entry, nice, but where's the fizzy pop mum? I digress. From the amount of bodies shuffling towards the stage in the small back room of the Wilmington, along with the general quiet that seems to be descending as alt-folk blues rockers
Brother & Bones
set up, it seems as if this collective have picked up a few followers since setting up camp in the capital.
Originally from the south-west, Brothers & Bones describe themselves as a like minded art collective comprised of musicians, photographers, artists and film makers. This collective element is not exactly evident from the traditional looking five piece led by the intense looking songwriter Richard Thomas stood upon the stage. But as soon as the first acoustic note is strung this simply does not matter, Brothers create an intense brooding sound which builds and crescendos in a manner which suggests some real craft. Due to the acoustic led sound one could initially make comparisons to recent folk chart crashers Mumford & Sons, but this would be a very poor, arguably impatient comparison. As Brothers passionately beat out the likes of 'Back to Shore' and 'Don't Forget to Pray', the sound seems to lend itself more to a fusion of the dirty blues of The Black Keys, southern rock of Pearl Jam and post-hardcore rhythms of Quicksand. The lead guitar licks really add to the mood of each song and the additional percussion feels like an essential building block to the size and structure of the sound, rather than just a mere novelty.
A welcome reprieve from the forceful nature of Brothers work, the group seems happy to engage in some banter with the audience. Fortunately it appears as if they do not take themselves quite too seriously (note the obligatory mention of latest release,
Skin
. The overall impression is that Brothers & Bones create a sound too big for the back room of a pub, these lads look they would sit quite comfortably on a much larger stage and the songs definitely warrant it. Based on the strength of this performance and a look at the schedule this summer, the next level seems to be in reach for Brother & Bones.