Boxed In @ Buyers Club, Liverpool 07.02.17
On excellent form, the London synth pop outfit showcase their songwriting smarts live on Merseyside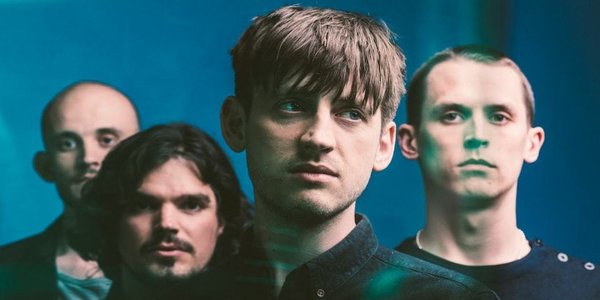 Waving the audience forwards the low stage of the Buyers Club, Oli Bayston,
Boxed In
in all but name effectively, brings the Liverpool crowd almost eye-level with the outfit's live band. Recipient of considerable praise for 2015s eponymous debut set and last year's highly satisfactory follow-up
Melt
, the London based alt. pop crew deserve to be playing bigger rooms to allow their spacious synth driven missives room to breathe rather than the two-thirds capacity club at present.
Commencing with
Melt
's opening three tracks, throwing Jist, the album's lead single into the set so early would most likely to be a misstep by other acts, but the present quartet have more than enough material to sate the demands of a live set despite only having two LPs to draw from. That said, playing the recent LP in such big chunks slightly lessens its impact compared to dividing the tracks up more, yet given the quality on show, running orders are a minor quibble.
Backed by a highly impressive live troika, including octopus-armed multi-instrumentalist Jack Benfield, switching between synth, percussion and his principal role of meting out guitar lines on a baroque Gretsch Country Gentleman axe, sticksman Liam Hutton propels the quartet forwards with unceasing, machine-like accuracy.
Something that becomes quickly apparent is just how good an ivory tinkler Bayston is, dividing his time equally between keys and vocals, with the lyrical depth of Shadowboxing and Oxbow demonstrating Bayston's strength with words as well as melody. Unlike fellow synth pop types Hot Chip whose highly effective, if teeth grindingly irritatingly shtick of repeating vocal hooks ad infinitum to guarantee earworm via invasion, the present act insinuate themselves through Bayston's melodic wherewithal.
A mid-set peak of Forget showcases how well Boxed In tap into the same strain of euphoric/despondent disco that New Order (still occasionally) excel at while their best-known song, the effervescent Mystery is beguiling high-calibre pop. While the track that announced their arrival in 2013 All Your Love Is Gone leans slightly too heavily on its hammering LCD Soundsystem style piano riff, as the project's debut release, the similarity is understandable.
Making the most out of the exhilarating False Alarm's elastic band foundation line, courtesy of Mark Nicholls' estimable four-string work, Bayston's announcement 'OK, we're hitting the final strait now' ushers in a superlative run through an extended version of Melt, which takes on greater force live. A third album by the outfit heading down river this year would be very welcome, by which time, surely,
deservedly
, more capacious venues will beckon.