Bo Ningen @ Thekla, Bristol 08.05.14
Noise. Silence. Hair. Noise. Silence. Hair. Noise, noise, noise. Bo Ningen aren't a band that makes a dramatic entrance, but they don't need too.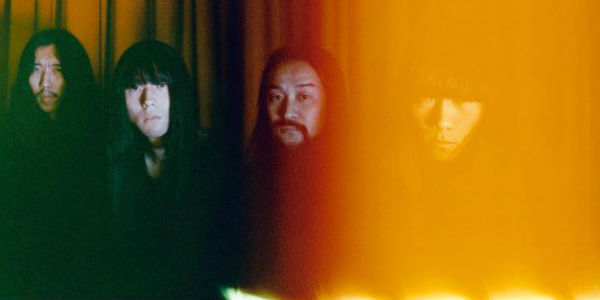 Bumbling around the stage, checking their instruments in the absence of roadies, letting out blasts of synths or guitar feedback here and there - it's like a band setting up for practice, oblivious to the couple of hundred bodies piled into the the Thekla to watch the Japanese (but London-based) band rip through their modest back catalogue that includes 2010's self-titled effort, 2012's critically-lauded
Line the Wall
, and the most recent, not-quite-released, but available-to-stream-online's
III
.
It's an interesting beginning that contrasts with their album persona, which is of a band that really appears to make a fuss. But this perforated lead-up to first song 'Kaifuku', the pounding closer from
III
, produces an unsettling atmosphere that draws the audience in instantly, too afraid to look away now that the noise has been brought.
But it's frontman Taigen Kawabe and his bass-skills that provide the most mesmerising focal point. From that opening track, his angular posture finger-picking the guitar straight from the neck with such un-demonstrated force is remarkable. There's a gentleness to his playing style that produces what can be described as an entirely contrasting growl, or heavy chug on the lower strings. It's supported by a guitar backdrop that is heavier on the treble when compared to their recordings, which only adds to the frenetic-nature of the performance. The set soars with pounding, rolling drums, high-pitched guitar wailings and dramatic arm flourishes from Kawabe, his voice, sitting forever high in pitch, like his bass playing, appearing soft, but translating into brutality as it flies through the speakers.
It's a set that mixes well, though
Bo Ningen
experiment with different pacing, and aren't afraid to tone it down when the set calls for it – their albums largely take a similar approach, which is an aural, and when backed with large enough speakers, physical assault. It means that the band are currently well placed to produce a well-crafted set with no jarring changes in style. From the opener, all the way to mid-set highlight of 'Soko' and crowd-please 'Henkan', both from
Line the Wall
which finally shocks the crowd into movement, both serving as much heavier renditions to their recorded counterparts.
Despite the relentlessness of the first half, each track is easily singled out as standalone projection of fuzz-laden guitars. And it's not until the penultimate song that the crowd is given respite with the much more downbeat, but angelically sung 'Natsu no Nioi'.
Finishing with the extensive and high-octane 'Daikaisei Parts 2 & 3', Bo Ningen sign off with noise, noise, and then – encore shunned – silence. If you discount the reverberating ear-ringing that continues long into the night, that is.