Blair Dunlop @ Cecil Sharp House, London 31.05.14
Cecil Sharp House is the spiritual home of English folk. This beautiful Regent's Park building houses music lessons, holds concerts and its library is where headliner Blair Dunlop's dad Ashley Hutchings found several of the songs that featured on English folk-rock's most seminal album, Fairport Convention's 1969 classic 'Liege and Lief'.
May 31st, 2014 at Cecil Sharp House, London / By
Ben Wood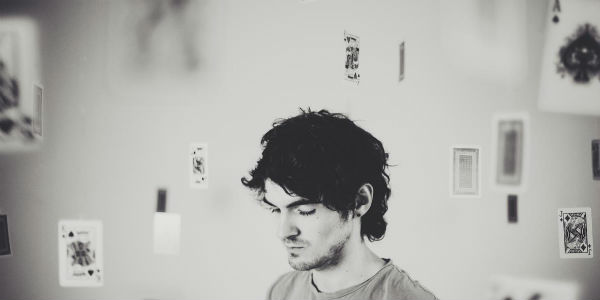 Fast-forward four decades, and Ashley's son is being hailed as the bright young hope of English folk. He certainly looks the part, all tousled hair and cheekbones. Blair's definitely got star quality, having already acted in Tim Burton's
Willy Wonka
film and taken over the leadership of Hutchings' seminal outfit The Albion Band at a tender age. In front of a packed crowd in a room blessed with perfect acoustics, can he deliver... or is it a case of too much, too soon?
Blair Dunlop's
first album
Blight and Blossom
got rave reviews and his latest,
House of Jacks
, has a more expansive, eclectic sound. Tonight, he plays songs from both with a full band. However, while Blair's impressive electric and acoustic guitar is backed by drums, violin and subtle, jazzy keys, the lack of a bassist occasionally creates a slightly thin sound.
He opens strongly with 'Something Gonna Give Way', the first single from his current album, a swinging
Liege and Lief
guitar and violin groove underpinning a tale of a bullied schoolboy's revenge. There are some nice chord changes going on throughout, a subtly understated musicality. Blair plays some gorgeously liquid electric guitar, though he keeps any show-offy tendencies in check - a shame, as a couple of the more stretched-out grooves were crying out for a ringing solo a la Fairport guitar legend Richard Thompson.
Interestingly, despite the wholesome off-the-peg folky sincerity of his earlier work, there are hints of rock'n'roll attitude. One song tells of "pills and powders" and late-night shenanigans, while backstage intrigues are referenced more than once. His lyrical interests are refreshingly broad. 'Strange Theatre' tells the story of playwright Christopher Marlowe, while 'The Ballad of Enzo Laviano' is from the perspective of an Italian footballer!
Band members troop on and off as Blair mixes things up, reworking some of his earlier material and playing songs accompanied by a variety of line-ups. He and his female violinist create some lovely harmonies, but his solo section, while well-played and sung, seems to lack something. Most alarmingly of all, he invites his good friend and opening act Luke Jackson on-stage to duet on a song by cheesy American troubadour John Mayer, who is better-known for his string of A-list girlfriends than his tunes. Recognising this is a risky move, he apologises in advance, but it's a revealing moment. He may be steeped in classic, iconic folk, but maybe Mayer's party-boy lifestyle and chart success is closest to Blair's heart. 'Blight and Blossom''s 'going-up-an-octave at the end of a line for extra emotion' is another false note, worryingly reminiscent of the dreaded Chris Martin.
It's an odd gig. Dunlop is clearly a talented musician, and the response he gets from the largely female crowd engenders more than one encore. But after a promising start, it meanders somewhat. Maybe he needs to take a leaf out of John Martyn's book to become a really compelling artist - stop trying to be so nice and sensitive, and go weirder, wilder.
The man's clearly got talent, but he may have been somewhat overhyped. Is he the real thing? Only time will tell...