Black Twig Pickers @ Cafe Oto, London 18.10.13
Cafe Oto may have a reputation as a haven of avant-garde out-there-ness, but it welcomes good stuff of every stripe. On Friday, its expensive Japanese beers, candlelit tables and bare bulbs played host to a classy transatlantic double-bill.
Oct 18th, 2013 at Cafe Oto, London / By
Ben Wood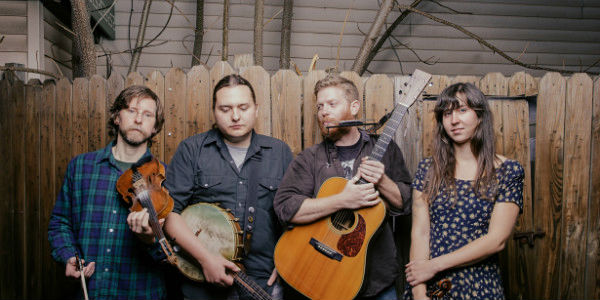 Transplanted Cornishmen
Red River Dialect
usually perform as a full band, their extended poetic musings and folk-rock guitar-and-violin interplay often venturing into trippier, more jam-heavy territory. Recently they've also been recording as a smaller combo. Tonight, the drummer is absent, and (sorry, chap) it suits them.
Singer/guitarist David Morris has a lovely unaffected straight-speaking English folk voice and his discursive multi-verse epics mesh beautifully with his band's sinuously intertwining electric bass-cello-guitar-violin grooves. Damn, their violinist is good. They may not be the most uplifting bunch – joking that they could only sing 'Happy Birthday' to a friend in the crowd "if it was a droney 13th century version" but hell, since when was folk supposed to be cheery?
If the band has a fault, it's that Morris has a tendency to swallow his words somewhat; and that most of their songs seem cut from a similar cloth. A heavier groove with wah-wah interjections picked up the pace to good effect – and also helped drown out the constant chatter from nearby tables (who would go to a muso hangout like this and be happy to drown out the artists at times with their self-obsessed blah-blah-blah? Answers on a postcard...)
Appearing tonight as a four-piece,
Black Twig Pickers
may not have grown up playing Appalachian string band music but their alternately lonesome and stomping fiddle and banjo stylings sound pretty darn authentic to these ears (though that's a slippery concept of course...)
Eight albums down the line this lot can play, for sure, but they're more interested in getting an attitude and energy across, than showing off flashy technique. Bunched up together in front of what looks like two old-style radio mikes, they lean in to sing harmonies and check out what each other is playing, like a perpetual-motion song machine with eight arms and eight legs.
Newest Twig (and "recovering academic") Sally Anne Morgan trades violin lines with the impressively moustached Mike Gangloff, who also provides most of the lead vocals with Nathan Bowles. Bowles swaps between banjo, washboard and fiddlesticks (yep, they actually exist!) while Isak Howell provides guitar and harmonica.
The set takes a couple of minutes to coalesce, but at some point the tuning-up resolves itself into the band's first fiddle tune. Before long, the crowd lets fly its first "yee-hah!", and the faster each tune whirls, the more the punters love it. On their own, the violins seem to express all the hardships to be found in the music's Virginia/Carolina/Kentucky homelands - but when the other instruments join them the music seems to kick up its heels and say 'sod that, pass that jug and let's forget all that crap for tonight'.
Soon a handful of young and enthusiastic crowd-members has taken up the band's invitation to dance, and are jigging so close to the band that the rest of us can hardly see them for much of the set (there are definite disadvantages to not having a stage. Next big investment for the venue,
Bearded
recommends...)
The set intersperses instrumentals with songs whose emotional range runs from melancholy to distraught (it's music born from hard times, after all).
Bearded
was particularly taken by the one that went "you've got to walk that lonesome highway by yourself" - and the one self-penned number on the latest record. Title track 'Rough Carpenters' pays tribute to the folks of Ivanhoe, VA, who survived when their industries shut down, half the buildings collapsed... and then an arsonist burnt the rest down. Despite all this the town still exists. Pretty bloody-mindedly impressive, huh?
We are also treated to such old-school delights as flatfoot dancing from Sally; fiddlesticks from Nathan; and more songs saying stuff like "I wish I had died when I was young..." But it's one of the mysteries of the human condition there's nothing like "another sad and tragic song" to cheer you up.
Coaxed back for more by deafening applause, the band encores with "Won't You Miss Me When I'm Gone".
Bearded
will indeed – but will treasure its banjo-playing squirrel T-shirt 'til the Twigs next come down from the mountains.