Black Mountain @ Shepherd's Bush Empire, London 07.10.10
Black Mountain, Dead Meadow… what is it with stoner rock bands and their fondness for gloomy nature-inspired names? I've got a fiver on Sad Forest and Depressed Waterfall turning up before Christmas…
Oct 7th, 2010 at Shepherd's Bush Empire, London / By
Ben Wood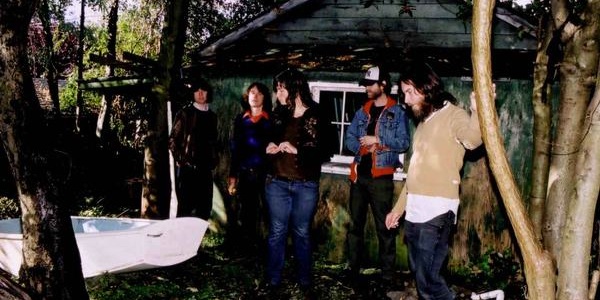 This final night of the band's tour, for their third album
Wilderness Heart
(out last month) was their biggest UK gig to date. While there were a few aging hairies present, this was largely a typical London indie crowd, showing that the band's heavily retro early 70s rock has developed mainstream appeal.
The support band is largely there to make the headliners look good – and
The Black Angels
certainly succeeded. Their droning two-chord rock was long on riffage, short on tunes and charisma, though a Bo Diddley-esque number was a welcome change of gear. Nice hats though.
Black Mountain
take to the stage with co-vocalist Amber Webber dead centre. Her powerful vocals play a larger role on the more recent material, and tend towards the stridently Grace Slick-esque on the heavier numbers. Several other tunes see her share vocals with the band's other vocalist, and band-leader, Stephen McBean.
Some songs have a Queens of the Stone Age feel, their tripped out biker boogie causing a sudden desire to load up on powerful hallucinogens and power off into the desert at a hundred miles an hour - but some of the early, Amber-sung numbers are a tad one-paced and dirgy. The shrieky likes of 'Let Spirits Ride', nod as much to the late 70s New Wave of British Heavy Metal as to Black Sabbath and Led Zeppelin.
However, like the mighty Zep, Black Mountain also have a delicate, folky, pastoral side. Much of the gig's harmony-heavy middle section is distinctly mellow, with the country-tinged Beckisms of 'Buried by the Blues' providing a much-needed change of pace.
The band is a tight, well-oiled machine all right, precision-tooled by countless gigs, and they certainly provide value for money – not many youngish bands will play for an hour and a half - but they save the best for last.
'The Hair Song' is the highlight of the band's new material, it's Led Zep 3 guitars and buoyant groove providing a much-needed jolt of melody and lightness. And the heavy, tripped-out groove of 'Druganaut' is a stone-cold classic – worthy of standing alongside 'Paranoid', 'Silver Machine' and 'Don't Fear the Reaper' in the pantheon of biker anthems the band is surely aiming for.
Black Mountain left the stage to a heroes' reception, but they have a gift for melody and groove that needs to be given freer rein. More Led Zep and less Judas Priest please…